Wrestlemania 35 is less than two weeks away and according to CBS Sports is on its way to becoming "the most stacked lineup in the history of the annual event." To celebrate the possible return of The Undertaker, we put together this mini-trivia featuring eight questions all about the one and only Phenom. Do you have what it takes to answer all eight questions correctly? Keep on scrolling and test your knowledge on the Deadman.
Has Undertaker ever lost at Wrestlemania?

[Source: Megan Elice Meadows/Wikimedia Commons]
Yes, The Undertaker has been defeated twice at WrestleMania during his 27-year career. In 2014 during WrestleMania 30, Brock Lesnar, a former UFC fighter, broke The Undertaker's 21-year WrestleMania streak with a win no WWE fan thought could be possible. (As seen in the image above.) In 2017 during WrestleMania 33, Roman Reigns faced The Undertaker in a nail-biting match. Using a combination of spears and Superman punches, Reigns beat The Undertaker down, leaving his WrestleMania record to 23-2.
Are Kane and Undertaker brothers in real life?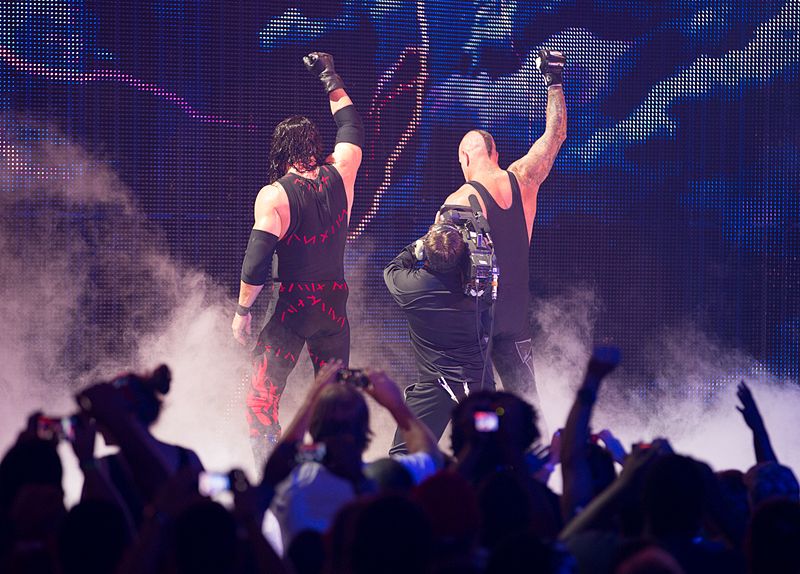 [Source: Xander Hieken/Wikimedia Commons]
In the world of WWE, Kane and the Undertaker are half-brothers (known as the Brothers of Destruction), which leaves fans wondering if they are, in fact, brothers in real life. Based off their last names and their prior history playing different characters in the ring, we conclude Glenn Thomas Jacobs (Kane) and Mark Calaway (The Undertaker) are not brothers in real life.

When did Undertaker debut as "American Badass"?

[Source: WWE/Sportskeeda]
During Judgement Day 2000, The Undertaker ditched his mortician-themed attire for bandanas, sunglasses, and leather vests, taking on a new identity, "American Badass." This new persona as seen in the above image didn't last long. Fans quickly shared their feelings of distaste and after less than a year, the "American Bad Ass" was out.
When did Undertaker retire?

[Source: WWE/International Business Times]
As of 2019, The Undertaker has not yet retired. After being defeated by Roman Reigns in 2017 during WrestleMania 33, The Undertaker slowly slipped off his gloves, took off his iconic jacket and neatly folded it while brushing off bits of dust. The crowd stayed silent in respect, while a spotlight was left to shine on his symbolic getup as seen above. This led fans to believe he retired, but in 2018, he returned to the ring for WrestleMania 34 in a match against John Cena, signaling that he is not ready to retire.


How many children does the Undertaker have?
[Source: WWE/Tumblr/TheSportster]
Four: Kaia Faith Calaway, Chasey Calaway, Gracie Calaway, and Gunner Vincent Calaway. This image depicts Mark Calaway with his youngest daughter.


Which celebrities did the Undertaker once rent his house out to?

[Source: Chrisa Hickey/Wikimedia Commons]
Brad Pitt and Angelina Jolie, above. While Brad was filming a movie in Texas, the Undertaker rented out his home to the couple.
Who played the fake Undertaker while the real one was out with injuries?

[Source: Paul Billets/Wikipedia and Mandy Coombes/Wikipedia]
Brian Lee. In 1994, while Mark Calaway (The Undertaker) was out due to injuries, his real-life cousin, Brian Lee (above), replaced him for a short duration. Fun Fact: Lee was also Calway's best man at his wedding.


What sport did the Undertaker play while attending Texas Wesleyan University?

[Source: Texas Wesleyan University/Bleacher Report]
Basketball—(above) Mark Calaway plays Basketball for Texas Weyslan. In 1985 while attending Texas Wesleyan University in Fort Worth Texas, Calaway played for the Rams during their 1985-1986 season as a center.
So how well do you actually know The Undertaker? Did you answer all eight questions correctly or did we stump you on a few? Let us know in the comments below! If you have some other fun trivia questions, share them in the comments as well!