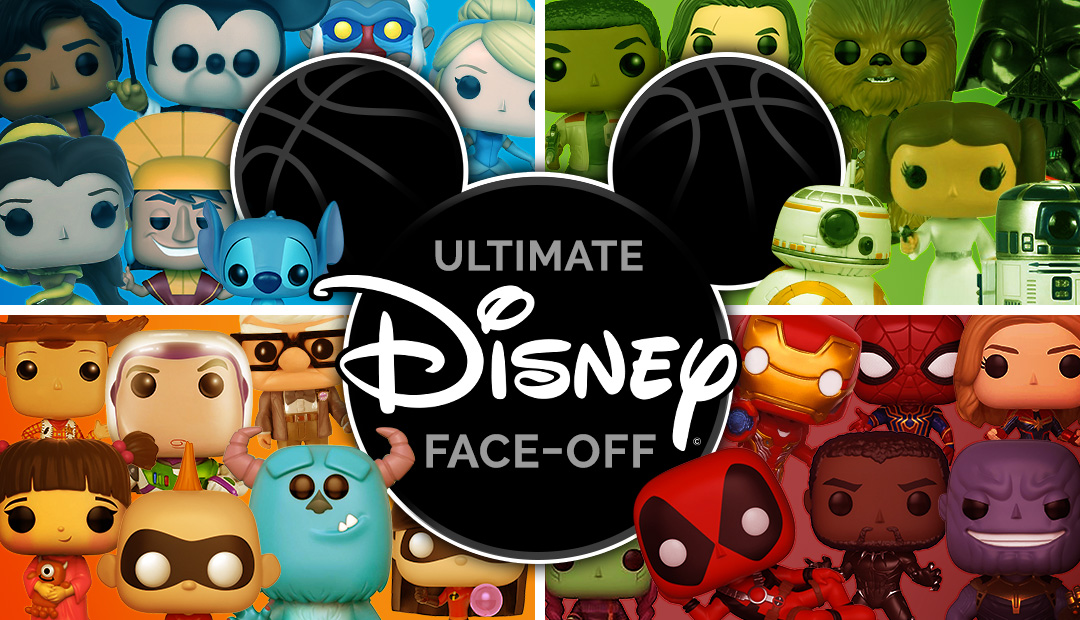 Spring is almost here, and you know what that means...it's time for NCAA March Madness! While some of you will certainly be watching Division I, you may be surprised to know that the Funko POP! Vinyls have a league of their own! They will be facing off in a fierce competition to decide which Disney Funko Pop! Vinyl is the all-time favorite. Since we're a bit biased, we're calling for help and asking YOU to pick the winner!
The Rules
The bracket is broken into four sections: classic Disney characters, Pixar characters, Marvel characters, and Star Wars characters. There are eight Funko POP! Vinyl figures representing each category, but only ONE will be crowned the final winner. Each week, we will slip on our own shiny Infinity Gauntlet and snap half of the contestants into oblivion. Come back each Monday to see who survived the snap and which POPs will be moving onto the next round!
You can also download your own printable bracket to share with your friends!


How to Vote
Voting will take place here on the blog as well as on the Fun.com Instagram and Twitter pages. Each Monday we will share the results of the previous round and open polling for the next round. Voting will be open on the blog from Monday morning through Sunday evening. You'll even be able to see results in real time! On our Instagram stories and Twitter feed, you can vote Monday through Thursday. These won't show in real time, but will be included in the results published each Monday.
Round One opens March 4th and closes March 10th is now closed
Round Two opens March 11th and closes March 17th is now closed
Round Three opens March 18th and closes March 24th is now closed
Round Four opens March 25th and closes March 31st is now closed
The Final Round opens April 1st and closes April 7th is now closed
The voting is now closed. Thank you to all that participated.
Congratulations to the
2019 Ultimate Disney Face-Off Champion,
Stitch!
We couldn't be more excited to find out who will leave the tournament untarnished and take the title of The Best Disney Funko POP! Vinyl Figure. Which POP! do you think will be the ultimate victor? Let us know in the comments. And remind your friends to do their civic duty and vote for their favorites in this Funko POP!tastic tournament! Also, be sure to check out all of our Disney Funko POP!s.