There has been a large amount of movie costumes and props that have become so famous and iconic over the years, that they turn into the most valuable pieces of memorabilia in pop culture history. The modest Von Trapp garments from The Sound of Music, the Cowardly Lion's costume, Dorothy's ruby slippers, and Marilyn Monroe's white halter dress have all sold for over hundreds of thousands (if not millions) of dollars. However, there are also plenty of movies and TV shows in recent history that have had costume budgets quite a bit more extravagant than others. We're listing our favorite movies and TV shows with the most expensive costumes, in no particular order.
1. Crazy Rich Asians (2018)
[Source: Warner Bros./Digital Spy]
Based off of the title of the film, you can already tell that the characters would be wearing expensive costumes. The book, which the film was based on, is known to name drop designers left and right. Page Six reported the "costumes were so expensive, they required security". Kevin Kwan, author of Crazy Rich Asians, told Time magazine there is a scene that features the most expensive watch ever sold, a Paul Newman Rolex Daytona.
2. The Devil Wears Prada (2006)
[Source: 20th Century Fox/Variety]
Another film that sounds expensive solely from the title. The 2006 comedy was focused around a recent graduate landing a position at one of the most well-known fashion magazines. There was a catch: her overly-demanding boss. Time reported the film's stylist, Patricia Field, racked up more than $1 million in costume expenses (excluding designer loans).
3. Black Panther (2018)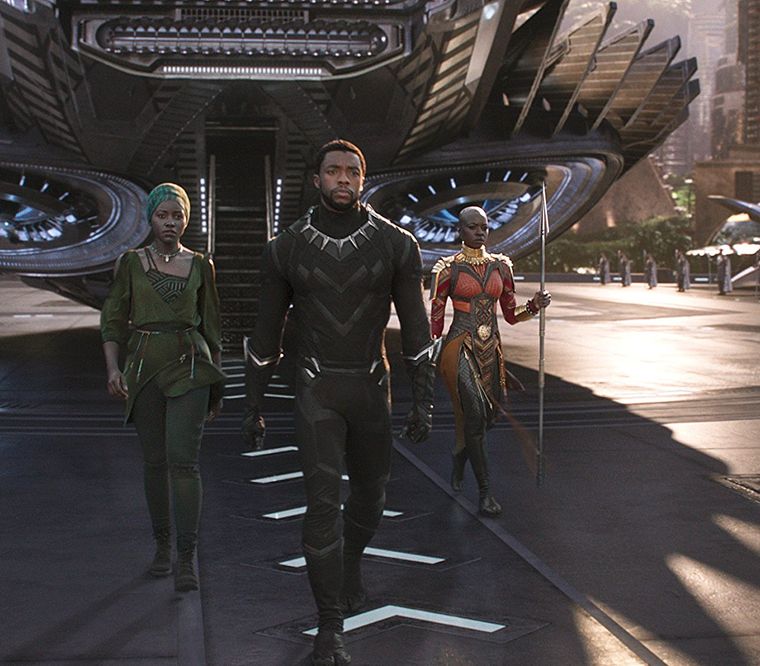 [Source: Marvel Studios/Mic]
Getting the costuming right for Black Panther was a huge priority for the filmmakers of the hit movie. African art history and tribal influences were studied intensively, but the costume budget also made room for some designer pieces, too. According to Elle, the movie's wardrobe included Alexander McQueen sandals, Balmain boots, and a Burberry coat.
4. Gossip Girl (2007-2012)
[Source: The CW/Hollywood.com]
Thanks to Blair and Serena, the private school chic style of Gossip Girl became incredibly popular in the late 00s. And as the show became more and more popular, the designers started coming to the show's stylist, Patricia Field. Huffington Post reported that Field had access to clothes and accessories created by Dior, Balenciaga, and Oscar de la Renta, and even bags that cost over $30,000!
5. Sex and the City 2 (2010)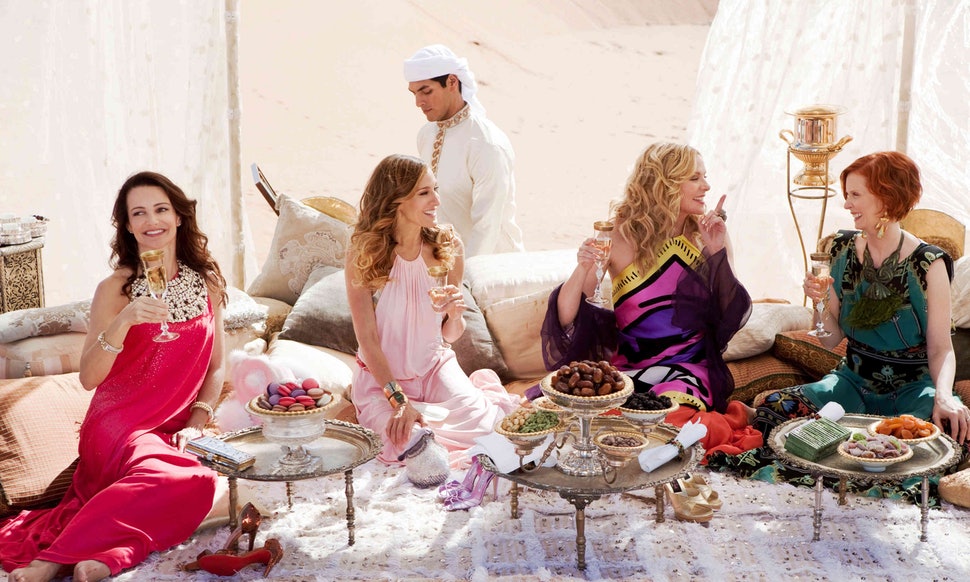 [Source: New Line/Bustle]
The women of HBO's Sex and the City had a few vices: gossip, martinis, and fashion. All four main characters dressed amazingly throughout the series' six season run, but no one was more iconic than Manolo Blahnik-lover Carrie Bradshaw herself. However, it was in the second film where things got a little crazy. Cosmo reported that Sex and the City 2 had a $10 million budget. MILLION. There was even a karaoke scene where the ladies' outfits totaled $50,000.
6. Game of Thrones (2011–Present)
[Source: HBO/Vanity Fair]
It should be no surprise that Game of Thrones has a pretty elaborate budget. Yes, yes, we all know that the Night's Watch fur cloaks were actually IKEA rugs, but the TV show has truly extravagant (and costly) costumes, as well. However, when talking with Buzzfeed, the show's costume designer Michele Clapton admitted that Margaery's wedding dress—featuring dozens of hand wrapped flowers—has been the most expensive garment on the show to date.
7. Breakfast at Tiffany's (1961)
[Source: Paramount/Bustle]
Did you know that Holly Golightly's famous black dress is considered the quintessential little black dress? Ok, well maybe, yeah. But did you also know that it was designed by Givenchy? This dress worn by Audrey Hepburn was so memorable in Breakfast at Tiffany's that it became forever linked with the actress herself. It was sold at auction for over $900,000 in 2006.
8. Titanic (1997)
[Source: Paramount/US Magazine]
While the actual history behind the Hope Diamond-inspired Heart of the Ocean isn't 100% clear, we do know that this necklace is one of the most stunning movie props in the past few decades. London jewelers Asprey and Garrard created a replica of the necklace for a mere $10,000 to be used in the film. Instead of a diamond, they used blue cubic zirconia and set the jewel in white gold.
9. Hello, Dolly! (1969)
[Source: 20th Century Fox/Letterboxd]
In 1969's Hello, Dolly!, Barbra Streisand's character wore a beautiful gold gown that cost $8,000. (That's over $55,000 in today's money.) The dress weighed 40 pounds, was embroidered with 14 karat gold thread, and was covered in Swarovski crystals. Due to how heavy the dress was, there was concern on set that Barba wouldn't be able to perform the dance numbers as choreographed.
10. Cleopatra (1963)
[Source: 20th Century Fox/io9]
With a budget of over $31 million, Cleopatra was the most expensive movie created at the time of its filming and almost bankrupted 20th Century Fox studios. Extravagant sets accounted for much of the budget, but one of the most expensive costume pieces was Cleopatra's wig itself. It was created with human hair and woven with gold beads.
11. The Crown (2016–Present)
[Source: Left Bank Pictures/Sony Pictures/Harper's Bazaar]
For a show about royalty, it's no surprise that Netflix's The Crown has a pretty hefty budget. And of that $130m budget, costuming was a large part of it. According to The Daily Beast, the most expensive TV show to date included over 7,000 costumes and a $35,000 replica of Queen Elizabeth's wedding gown.
12. My Fair Lady (1964)
[Source: Warner Bros./The Shelf]
While there is no record of how much Audrey Hepburn's ascot dress cost to originally make, we're guessing it was not inexpensive. Legendary designer Cecil Beaton created all of the costumes in the film, and Eliza Doolittle's beautiful black and white ensemble is the most memorable of them all. The dress sold at auction in 2011 for $4.5 million.
Which of your favorite movies or TV shows have crazy elaborate costume budgets? There were so many we would have loved to include on this list, like T2's T-800 metal model or any of the costumes from the most expensive movie ever made, Pirates of the Caribbean: On Stranger Tides. Let us know in the comments if you know of any other tv shows or movies with the most expensive costumes!