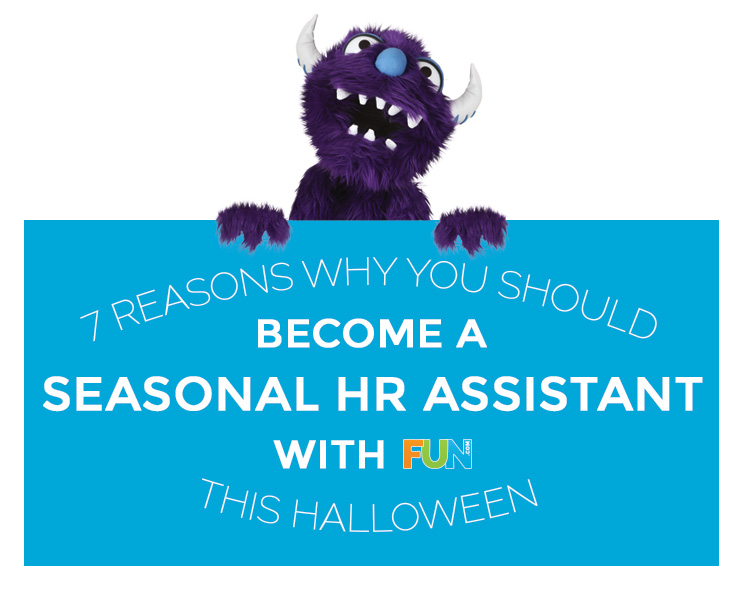 Each Halloween season, the Human Resources Department is tasked with hiring over 2,000 seasonal employees for our Shipping, Inventory, Customer Service, and Returns departments for the busy Halloween season. The Human Resources Department grows from 4 people to over 15 by the end of October to tackle staffing 2,000 positions within 3 months. Human Resource Assistants conduct pre-employment background screenings, process new hire paperwork, maintain Fun.com Job social media pages, and attend recruiting events throughout the Mankato area. That isn't even all of it. There so much more! Thinking of applying and aren't convinced yet? Before you head over to Fun.com/Careers and apply, here are seven reasons why you should apply to be seasonal Human Resources Assistant.
1. You're Looking for Human Resources Experience
Don't know what a W-4 is, anything about hiring policies, or how to recruit an army all within 3 months' time? With the variety of tasks our Human Resources Assistants work on, you will gain important knowledge for a future career in Human Resources and get massive recruiting experience. By the end of season, you will have accomplished the great feat of helping to hire over 2,000 seasonal employees. Who else can put that on their resume? Not many people can!
2. This Experience Can Apply to Any Career Path
Thinking you shouldn't apply because Human Resources isn't what you're attending school for? Think it won't correlate with your degree or your future career? FALSE. There are many skills you will learn hands-on in this position that apply to many fields other than Human Resources. Fun.com hires Human Resources Assistants from a variety of backgrounds and all have walked away with valuable experience that they can apply to future career paths. Majoring in Accounting? Human Resources helps with seasonal payroll. Majoring in Public Relations or Marketing? People don't just hear about our seasonal positions overnight! Communications, Sports Management, or Nursing? You will learn gain important problem solving skills, experience in enforcing rules, and dealing with employee relations issues that apply to any career!
3. Your ABC Game Will Be Strong By The End of Season
If you don't know your ABCs by heart, by the end of the season you will! This may sound silly, but in Human Resources there is a lot of paperwork to be done. With around 2,000 seasonal employees, there are lots of things to file. Thousands of things to file in alphabetical order.
4. Fun.com Is A Unique Company
We don't know about you, but we like to communicate in memes. Is there really any other way? It's not unusual to see someone in the office wearing a Halloween costume in July or for coworkers to challenge each other to a midday game of foosball. We embrace everything that is nerdy, goofy fun! Starting from a garage, we have grown to employ over 150 employees year-round and over 2,000 staff seasonally. We dream up costume ideas, market our products, and ship them around the world - all in the same building located in North Mankato.
5. We Offer Flexible Scheduling
Already have a job? Attending college? Play Dungeons and Dragons every Wednesday night and you can't miss it? That's fine! We have no set shifts, so we are able to schedule you around your availability! Human Resources Assistants can work between 20-40 hours a week, nights and weekends.
6. We Have A Fast-Paced Work EnvironmenT
Ever worked at a job where a five-hour shift feels like a ten-hour shift? You won't have to worry about that here. Time goes fast while on the clock. There is always something to do, from tabling at colleges, sharing about our open seasonal positions at community events, to helping someone fill out their paperwork during orientation. Dodging nerf gun bullets is a normal pastime, too!
7. No Other HR Department is Quite Like Ours
Human Resources likes to shoot random things out of our t-shirt cannon and we really like Frooties. Human Resources also enjoys discussing really important topics such as whether a hot dog is considered a sandwich or not. Is an owl actually just a sky cat? What cryptid is best? HR has an odd habit of making weird experiments with hand sanitizer and like to try weird foods. We work hard, but play harder!
Ready for an immense amount of practical experience and to shoot something weird out of a t-shirt cannon? Have a craving for Frooties? Are you game to help hire over 2,000 seasonal employees? You're convinced you should apply? Yes!! To apply, visit Fun.com/Careers now and tell them we sent you. Be sure to check out our media pages! We have a Fun.com Jobs Facebook, Twitter, and Instagram.
Temporary Human Resources Assistant positions are not available year-round and will only be posted July-October each year.