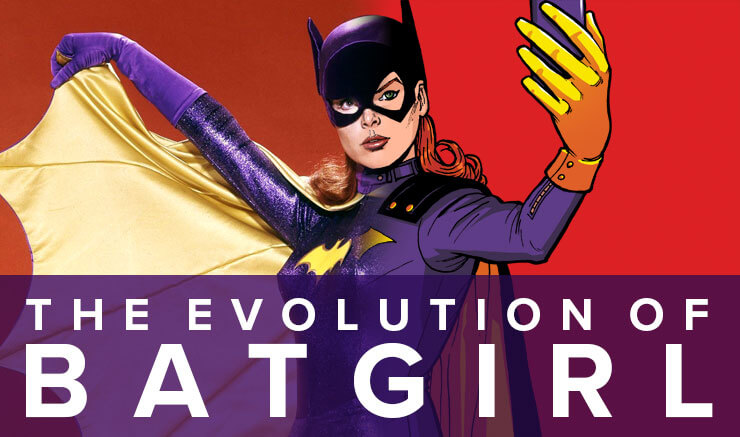 There have been several versions of Batgirl over the years, but the most the definitive one has been Barbara Gordon, who made her DC Comics debut on November 29, 1966 in Batman #359. While it's been 50 years since Gordon's debut as Batgirl, there was another Bat-girl (Betty Kane) who debuted 5 years earlier in Batman #159. Betty Kane is the niece of Kathy Kane, the original Batwoman who, coincidentally, debuted 60 years ago in 1956.
As we celebrate the 50, 55, and 60-year anniversaries of the Bat-women, we've put together this infographic featuring Barbara Gordon and all her different appearances over the years, from her comic debut to her TV and film roles to her current run in the DC Superhero Girls web series and various other comics. We've also included her run as Oracle, which originated from her controversial role in Alan Moore's The Killing Joke. Eventually, she returned to the superhero role as part of DC's reboot in 2011. Check out Barbara Gordon and other versions of Batgirl in our infographic below!
Click Image for Larger View
Embed This Image On Your Site:
The Evolution of Batgirl Transcript
(Plus the Origins of Batwoman and Bat-Girl)
It's been fifty years since Barbara Gordon first debuted as Batgirl. Coincidentally, this year also marks sixty years since Batwoman's first appearance and fifty-five years since she was joined by her sidekick Bat-Girl. To celebrate the occasion, we've compiled a visual history of every notable costume worn by Barbara Gordon and the other various Bat-women (not including alternate universes or one-offs.)
Batwoman—1956 (The Silver Age)
Kathy Kane, wealthy heiress and restless ex-circus daredevil, was inspired by Batman to take up the cape and cowl. In her first adventure Robin declared she'd made the dynamic duo look like "amateurs". Note the hidden bat shape on her blouse, easier to see if you imagine the collar being yellow.
Bat-Girl—1961 (The Silver Age)
Batwoman was intended as a one-off, but fan response led to her becoming a recurring character. She was even given a sidekick: Betty Kane, a visiting niece who discovers her secret. Despite their popularity, these two Sheldon Moldoff-designed heroines were ousted in 1964 when a new editor took over.
Batgirl—1966 (The Silver Age)
When Catwoman was a hit on the TV series, producer William Dozier asked the publisher for more women, especially a heroine who could be Commissioner Gordon's daughter. Carmine Infantino worked up a black-and-gold Batgirl costume, and Barbara Gordon was quickly introduced in the comics.
Batgirl—1967 (TV Show)
Season three began with the debut of Batgirl, played by Yvonne Craig. Designer Pat Bardo gave her a purple-and-gold color scheme—perhaps because Catwoman was already wearing black-and-gold—and got rid of the hip bag. The character was so popular she nearly ended up with her own spin-off series.
Batgirl—1968 (Filmation)
In comics, highlights on black material were typically colored blue. For reasons unknown, the highlights on Batgirl;'s body suit were always colored gray, while her cowl was still colored blue like Batman's. Filmation's The Adventures of Batman took this one step further, going with pure blue-and-gray.
Batwoman—1977 (The Bronze Age)
Batwoman returned with a redrawn costume in Batman Family, a spin-off starring Batgirl and Robin. When Detective Comics was about to be canceled, DC decided instead to merge it with the better selling Batman Family series. Soon after, Batwoman became possibly the first superhero ever to be "fridge".
Oracle—1988 (Post-Crisis)
Suicide Squad writers Kim Yale and John Ostrander were disgusted by the treatment of Barbara Gordon in The Killing Joke, where she was crippled and tortured for shock value. Upon discovering that the Bat-editors had no further interest in the character, they adopted her in Suicide Squad, turning her into the paraplegic hero Oracle.
Batgirl—1993 (The Animated Series)
On Batman: The Animated Series, character designer Bruce Timm used a darker shade of the Filmation colors, but gave her blue gloves and boots similar to Batman's. When the series moved from Fox to WB and the characters were given a makeover, Batgirl's costume was changed to the old black-and-gold look from the comics.
Batgirl—1997 (Movie)
Alicia Silverstone played Barbara Wilson, Alfred's niece turned heroine, in Batman & Robin. Initial costume sketches had a full-cowl like Batman's, and even was sculpted as a half-cowl with her hair out in the back. In the end they decided to go with a Robin-style mask, though she briefly wore the half-cowl while riding her motorcycle.
Batgirl—1997 (Movie)
Silver versions of the heroes' costumes were created to make the film more "toyetic" by providing color variants for action figures. However, the toy company needed to see the costume sketches far in advance, and Batgirl's costume had yet to be finalized. As a result, all her action figures featured a full-cowl that wasn't worn in the movie.
Batgirl—1999 (No Man's Land)
When Batman disappeared during "No Man's Land", Helena Bertinelli a.k.a. Huntress put together a new costume (designed by Alex Maleev) and defended Gotham as "The Bat". Feeling unappreciated upon Batman's return, Helena gave the costume up and Batman passed it on to Cassandra Cain, who starred in the first-ever Batgirl solo series.
Batgirl—2002 (Birds of Prey)
Based on the comic starring Oracle and Black Canary, the short-lived Birds of Prey TV series introduced Huntress to the team before the comics did. During flashbacks to Oracle's previous career as Batgirl, actress Dina Meyer wore a repainted version of the Batman & Robin costume, complete with the rarely-seen half-cowl.
Batwoman—2003 (The Animated Series)
Bruce Timm wasn't involved in straight-to-DVD film Mystery of the Batwoman, but the costume was clearly inspired by his Batman Beyond design. But who was the woman inside the liquid-metal armor? Batman's top suspects were scientist Rocky Ballantine or Kathy Duquesne (pronounced "du-kane").
Batgirl—2005 (The Batman)
The Batman character designer Jeff Matsuda was equally inspired by the purple costume from the '60s TV show and the outfit worn by Battle of the Planets character Princess. The addition of a ring belt and a shift dress gave the costume a mod look that pushed the '60s vibe one step further.
Batwoman—2006 (Post-Infinite Crisis)
In 2000, Alex Ross designed this costume (with cowl) as a pitch to have Barbara Gordon return to the role of Batgirl. DC liked it, but wanted to use it for a Batwoman revival. Ross changed the cowl to the mask above. It was further tweaked by J.H. Williams III when he launched the Batwoman solo series.
Batgirl

Misfit—2006 (Dark Vengeance!)

Gal Simone created Charlie Gage-Radcliffe a.k.a. Misfit to be Oracle's new Bat-Mite, a playful super-fan who annoyed Batman in the 60s. Misfit wasn't intended to be a real batgirl, but DC nearly made her one due to fan reaction. Simone pleaded with them not to, arguing it would throw off the balance of the Bat-books if a Batgirl had superpowers.
Batgirl—2009 (Post-Infinite Crisis)
Before becoming the third official Batgirl, Stephanie Brown had always been the fourth Robin, and was previously a hero called Spoiler. For her newest costume, Lee Garbet mixed elements from Spoiler's costume in with previous Batgirls to create a design that would have just enough contrast that she wouldn't get lost against a dark background.
Batgirl—2011 (New 52)
Two decades after The Killing Joke, Barbara Gordon was Batgirl in the comics once again. The costume was a collaborative process. Writer Gail Simone and artist Ardian Syaf did a first pass, revised by New 52 designers Jim Lee and Cully Hammer. lee made the cape a purple cape as a reference to the TV show, but changed it to gold after seven issues.
Batgirl—2012 (Young Justice)
While most Batgirl redesigns take inspiration from the '60s TV series or the early comics, it looks like Young Justice character designer Phil Bourassa went in a different direction, going with the classic Batman black-and-gray color scheme. The most prominent addition is the extra armor covering her abs.
Batgirl—2013 (Batgirl of Burnside)
Co-writer Cameron Stweart wanted to get away from the armored look. His idea was to do a modern take on the '60s TV show outfit, taking inspiration from Cooke's Catwoman and McKelvie's Captain Marvel. After creating the initial design, it was given to a series artist Babs Tarr for added detailing.
Batgirl—2015 (DC Super Hero Girls)
When designing Batgirl for the DC Super Hero Girls cartoon and toy line, it appears Jenn Rahardjanoto used the Burnside costume as the initial jumping-off point, simplifying and tweaking it. Replacing the cowl with a hood was a creative choice, as was the surprising lack of a cape.
Sources: Batman: The Complete History, CBR, ComicMix, ComicsAlliance, Newsarama, Rough Justice: The DC Comics Sketches of Alex Ross, Shadows of the Bat, TV Guide, Wizard
Special Thanks: Gail Simone
Unlike heroes like Batman and Wonder Woman, Batgirl has seen quite a few color changes in her costume over time. Which one is your favorite? Where does Barbara Gordon rank on your list of DC Comics characters? Leave us a comment and let us know what you think. If you're looking for some colorful dress options for yourself or your friends, be sure to check out our new collection of DC Comics Christmas sweaters. They'll help you stay warm and super this holiday season.
Design Credit: Kate Willaert