Just five years after their debut in the K-Pop scene, the seven members of Bangtan Sonyeondan—better known as BTS—were awarded a 5th-degree Hwagwan Order of Cultural Merit by South Korea's President. Why? Because in that time, RM, V, Suga, Jimin, J-Hope, Jungkook, and Jin spread the language and culture of South Korea to the world with their music! The diverse sound of BTS caught fans' attention from the get-go, but their look and performance on stage held it even tighter! And from their 2013 debut to 2022's "Permission to Dance", the BTS fanbase known as Army has only grown! Not only for their dreamy boy band personas, catchy and relevant lyrics, and growing list of awards, but for their activism and philanthropic efforts. Whether this is all old news to you as a fierce member of the BTS Army or you're meeting BTS for the first time, get to know the members along with us in this brief guide!
[All images courtesy of Big Hit Music.]
RM
RM was born Kim Nam-joon on September 12, 1994. At age 11, he became interested in rap music after hearing South Korean hip-hop group Epik High's "Fly". After a teacher introduced RM to American rapper Eminem, he began crafting his own lyrics and found his way to South Korea's underground rap scene. The BTS story began in 2010. For three years, RM trained for the release of 2 Cool 4 Skool and the band's debut. As rapper-songwriter and producer with BTS, he has played a large part in each album's creation. Outside of BTS, RM released his solo mixtapes RM in 2015 and Mono in 2018.
Quick RM Trivia:
Zodiac sign: Virgo
Favorite number: 1
Favorite colors: black, pink, and purple
RM taught himself English by watching Friends.
His stage name originally stood for Rap Monster but officially changed to RM so it could represent many things.
V
V was born Kim Tae-hyung on December 20, 1995. Since elementary school, he dreamed of becoming a professional singer and took up saxophone to begin his musical career. His dream came true when V was added to the BTS septet. Within the group, V is a baritone vocalist, dancer, and a visual. (Within K-pop groups, a "visual" member is one who "best fits Korean beauty standards".) He has self-produced three singles, "Scenery", "Winter Bear", and "Sweet Night". As one of the most popular members of the band, V has a significant influence on the BTS Army and coined the term "I purple you", which led to purple becoming a symbol for both the band and Army. Outside of BTS, V acts and attends university, pursuing an MBA.
Quick V Trivia:
Zodiac sign: Capricorn
Favorite number: 10
Favorite colors: black, white, green, and grey
Before picking his stage name, V had the choice between Six, Lex, or V. He chose V for Victory!
Five fan clubs formed after V's images were released ahead of BTS' debut.
Jimin
Jimin was born Park Ji-min on October 13, 1995. As a child, he attended Just Dance Academy, where he learned how to pop and lock. Jimin went on to study contemporary dance at Busan High School of Arts, where his skills prompted a teacher to suggest he audition for an entertainment company. He passed auditions with Big Hit Entertainment in 2012 and became a member of BTS. His exceptional dance talents continue to earn recognition but are now matched with his vocals. As a solo artist, Jimin has produced two singles, "Promise" in 2018 and "Christmas Love" in 2020. Like V, Jimin is pursuing an MBA.
Quick Jimin Trivia:
Zodiac sign: Libra
Favorite number: 13
Favorite colors: light brown, purple, and black
Jimin is considered the most energetic member of the group.
Jimin is the shortest member of BTS.
Suga
Suga was born Min Yoon-gi on March 9, 1993. Like RM, Suga became interested in becoming a rap artist after hearing Epik High. By the age of 13, he was writing lyrics. And by 17, he was working part-time at a recording studio where he began composing and arranging music and performing. Before signing to BTS, Suga made a name for himself in the underground rap scene as Gloss. Within BTS, Suga is recognized for his hardcore rap style that allows him to turn vulnerabilities into strengths and tell stories without censorship. Along with his constant musical pursuits inside and outside BTS, Suga is an avid philanthropist and outspoken activist.
Quick Suga Trivia:
Zodiac sign: Pisces
Favorite number: 3
Favorite color: black
His stage name is a nod to his sweet-as-sugar smile and "shooting guard", the basketball position on his school team.
Suga dislikes crowded and noisy spaces.
Jin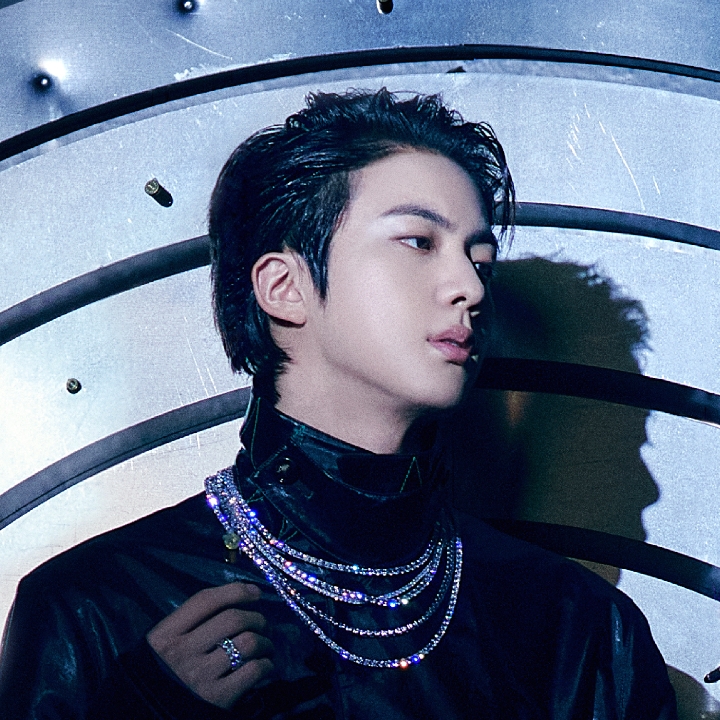 Jin was born Kim Seok-jin on December 4, 1992. Jin was scouted by SM Entertainment years before Big Hit Entertainment recruited him for BTS. He turned down SM's offer, thinking it wasn't real. With BTS, however, he's been able to put his talents and good looks to work! His vocal range has been praised as sorrowful, tender, and free-spirited. Like his fellow bandmates, Jin has released solo work both inside and outside BTS. His self-produced singles include "Tonight", "Abyss", and "Super Tuna". Again similar to other BTS members, Jin is an active philanthropist and supports animal rights groups and UNICEF.
Quick Jin Trivia:
Zodiac sign: Sagittarius
Favorite numbers: 4 and 2
Favorite colors: pink and blue
Jin is the official visual of BTS.
He is the oldest member of BTS.
J-Hope
J-Hope was born Jung Ho-seok on February 18, 1994. The rapper-songwriter joined BTS at the same time as RM and Suga. Like his fellow rap artists, he had a name in the underground scene, but for dance as a member of Neuron. His underground and competitive career in dance led to an interest in rap and singing, which of course directed his role in BTS. J-Hope contributes to the rap, dance, songwriting, and production of BTS records, as well as solo projects like his 2018 mixtape Hope World. J-Hope has been noted for a musical style that's diverse and fun-natured even while discussing serious subject matters.
Quick J-Hope Trivia:
Zodiac sign: Aquarius
Favorite number: 7
Favorite color: green
J-Hope owns a recording studio called Hope World.
His stage name comes from his desire to be a symbol of hope to fans.
Jungkook
Jungkook was born Jeon Jeong-guk on September 1, 1997. As a child, he wanted to be a badminton player. But after seeing G-Dragon perform "Heartbreaker", he fell in love with the idea of being a professional singer. While he wasn't selected for Superstar K at his 2011 audition, he was signed as a trainee with Big Hit Entertainment shortly after. His popularity flourished as a vocalist, dancer, and a visual of BTS. Because of this, items he's seen using often sell out, which has earned Jungkook the nickname Sold Out King. Jungkook's self-produced solo work includes 2020's "Still with You" and 2022's "My You".
Quick Jungkook Trivia:
Zodiac sign: Virgo
Favorite number: 1
Favorite colors: red, black, white, and yellow
He is the youngest member of BTS and is nicknamed Golden Maknae for this and his popularity.
Jungkook's 10-year goal is to own a duck meat restaurant or be a tattoo artist.
TL;DR: BTS FAQ
What does BTS mean?
BTS is an acronym for Bangtan Sonyeondan. Roughly translated, it means "Bulletproof Boy Scouts". This was chosen to reflect the goal of blocking out stereotypes, criticisms, and expectations aimed at adolescents. BTS expanded the meaning to "Beyond the Scene" in 2017, expressing growth and progress.
When did BTS debut?
BTS made its debut in 2013 with the album 2 Cool 4 Skool. Though they were first brought together in 2010, the group's sound and membership continued to evolve and grow from a hip-hop group to the more traditional idol group we know and love!
Who is BTS?
BTS is a K-Pop group with seven members. RM (Kim Nam-joon), V (Kim Tae-hyung), Jimin (Park Ji-min), Suga (Min Yoon-gi), Jin (Kim Seok-jin), J-Hope (Jung Ho-seok), and Jungkook (Jeon Jeong-guk). The septet split singing, dancing, and rapping duties but share producing and writing roles.
Where is BTS from?
Each BTS member is from South Korea. RM is from Ilsan-gu, Jin Gyeonggi Province; Suga and V are from Daegu; J-Hope is from Gwangju; and Jimin and Jungkook are from Busan. BTS is the first all-South Korean group to lead the Billboard Hot 100.
If you're anything like us, you've learned a lot reading through this BTS guide. But let us tell you, this is just scratching the surface! Meeting, seeing, and hearing this K-Pop group only inspires newbies and Army members to want more information about each member. That might be a clear definition to Jin's role as official BTS visual, which BT21 character relates to which BTS member, or V's Myer-Briggs personality. Either way, the information is out there to grab imaginations, grow fans, and teach everyone about K-Pop and South Korean culture.
So, whether you're already an avid fan or just getting swept up in the Korean wave, celebrate one of the world's most influential bands with BTS merchandise available here!
BTS Funko POP!s
BT21 Lamps
Of course, we carry plenty of other BTS gifts in addition to band/artist and music gifts of all kinds! We also make our own exclusive gifts, from sweaters to shoes to bags and more!