A long time ago in a kitchen far, far away...
Star Wars Day gives us a great excuse to pop in our favorite Star Wars movies and whip up some quick, themed snacks. However, Star Wars birthday parties, conventions and other events may have us in the mood for some galactic snacks, too! Snacks don't necessarily equal desserts either, so we're putting together a selection of healthy Star Wars recipes that involve a variety of fruits, vegetables and grains that can help with some of that movie snacking guilt. (There's still some chocolate and honey to get your picky kids to try something new!) These snacks feature characters from all over the galaxy, including Princess Leia, Chewbacca, Baby Yoda, and even Jabba the Hutt! You'll want to make sure to have a good variety of Star Wars snacks on hand at any event, lest we hear Darth Vader say, "I find your lack of snacks disturbing".
Download the printable recipe cards at the bottom of this article!
1. Baby Yoda Avocado Toast Recipe
Grogu toast is almost too cute to eat!
Ingredients:
2 slices of bread (whole grain or your choice)
1 avocado, seeded and peeled
Lime juice from 1/2 lime
2 tablespoons fresh cilantro, chopped
Salt and pepper
Black olives
Baby spinach or leafy greens
Directions:
Toast bread.
Mash avocado in a small bowl, and combine with lime juice, cilantro, salt and pepper.
Place leafy green ears onto toast and spread mixture in the shape of Grogu's face.
Slice black olives in half lengthwise and place on top as Grogu's eyes. Use another olive slice as his mouth.
2. Princess Leia Peanut Butter Banana Buns Recipe
Into the garbage chute, flyboy!
Ingredients:
1 sheet of flatbread
Peanut butter
1/2 banana, or as needed
1/2 tablespoon honey
Directions:
Spread peanut butter on flatbread.
Slice banana into thin slices and place on top of the peanut butter.
Drizzle peanut butter and banana side with honey and roll up flatbread.
Cut into slices, using toothpicks to hold spirals in place.
3. Fruit Kabob Lightsabers Recipe
I see you have constructed a new lightsaber.
Ingredients:
Red and green grapes
Strawberries
Blackberries
Raspberries
Blueberries
(Optional) gray duct tape and black marker
Directions:
Rinse fruit and skewers, and allow to dry.
(Optional) To create lightsabers, wrap duct tape around bottom of skewers and decorate with black marker.
Pierce fruit with skewers, making sure to use one kind of fruit per skewer.
Place on platter and serve.
4. Death Star Energy Balls Recipe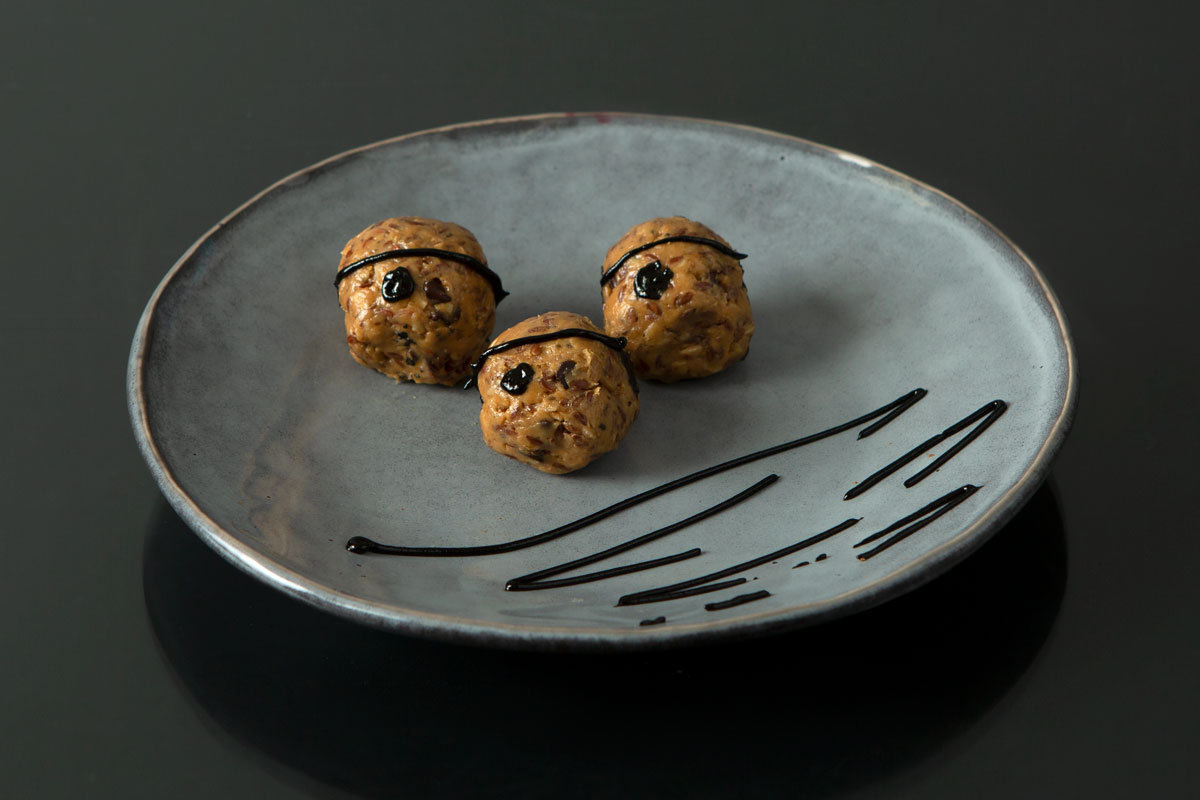 The ability to destroy a planet is insignificant next to this snack.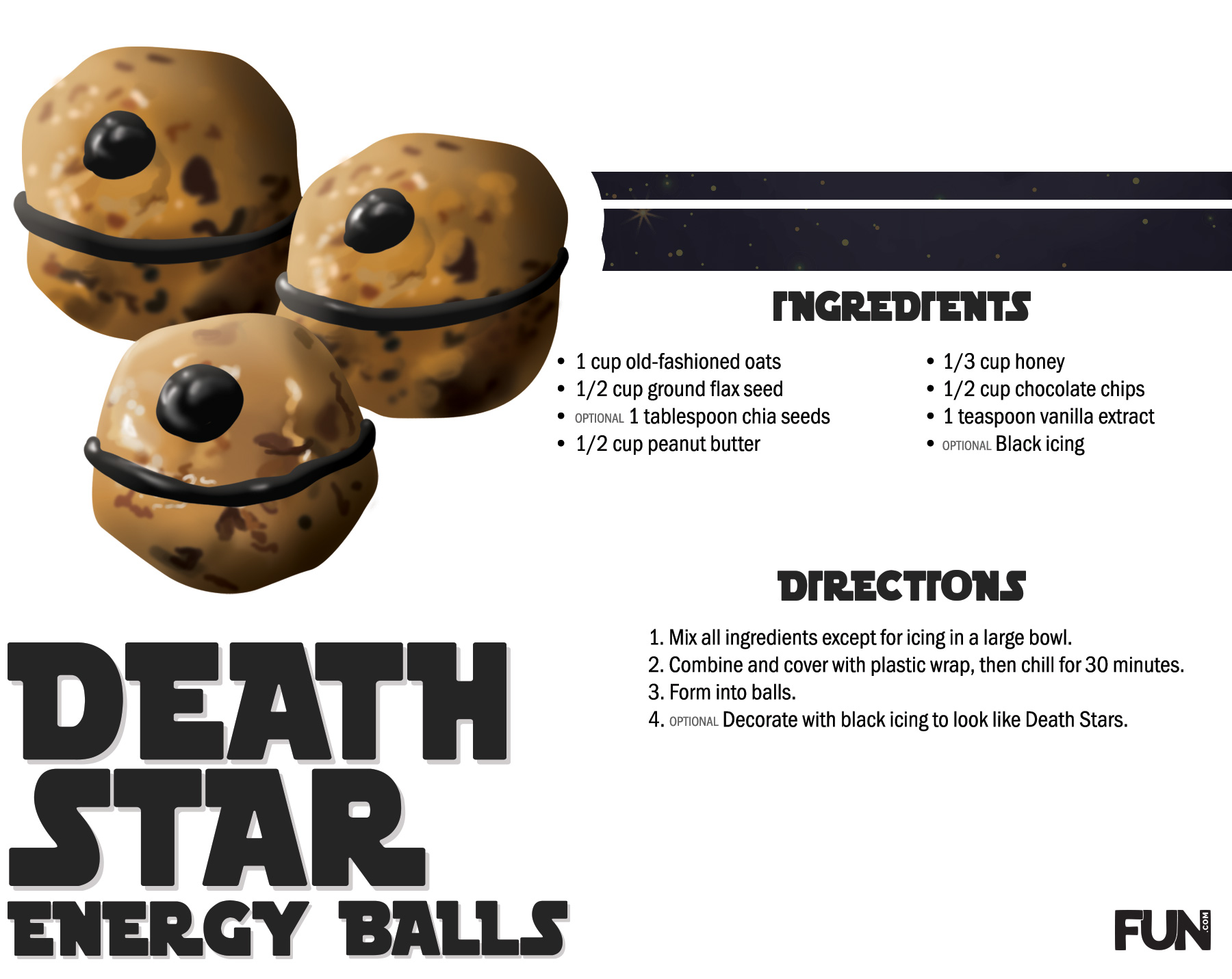 Ingredients:
1 cup old-fashioned oats
1/2 cup ground flax seed
(Optional) 1 tablespoon chia seeds
1/2 cup peanut butter
1/3 cup honey
1/2 cup chocolate chips
1 teaspoon vanilla extract
(Optional) black icing
Directions:
Mix all ingredients except for icing in a large bowl.
Combine and cover with plastic wrap, then chill for 30 minutes.
Form into balls.
(Optional) Decorate with black icing to look like Death Stars.
5. Tie Fighter Cheese and Crackers Recipe
A snack that size couldn't get into deep space on its own.
Ingredients:
1 block of cheese (cheddar or your choice)
1 box hexagon crackers
1 (6 1/2 ounce) cheese spread
Directions:
Cut cheese block into cubes, about 1/2 inch on a side.
Spread cheese onto 2 opposite sides of each cheese cube.
Press hexagon cracker onto sides with cheese spread.
6. Berry Honey Ricotta Wampa Toast Recipe
Hey, what's the matter? You smell something?
Ingredients:
2 slices of bread (multigrain suggested)
1/3 cup ricotta cheese
1/2 teaspooon honey plus more for top
Blueberries or blackberries
Flaky or coarse sea salt
(Optional) black icing
Directions:
Toast bread.
Mix ricotta and honey together in a small bowl.
Spread mixture over toasted bread, and add blueberries or blackberries Wampa face.
(Optional) Use black icing to decorate Wampa face.
Sprinkle sea salt and drizzle honey on top.
7. Jabba the Hummus Recipe
You will soon learn to appreciate me.
Ingredients:
1 (15 ounce) can of chickpeas, rinsed and drained; or 1 1/2 cups of cooked chickpeas
1/2 teaspoon baking soda (if using canned chickpeas)
1/4 cup lemon juice (approx. 1-1/2 to 2 lemons)
1/2 teaspoon fine sea salt (or to taste)
1 medium to large garlic clove, chopped
1/2 cup tahini
1/2 teaspoon ground cumin
1 tablespoon extra-virgin olive oil
2-4 tablespoons ice water (or more as needed)
(Optional garnishes) drizzle of olive oil, chopped fresh parsley, or sprinkle with paprika or ground sumac
Directions:
In a medium saucepan, add chickpeas (and baking soda, if using canned chickpeas), and cover with several inches of water. Bring water to a boil and reduce heat to prevent spilling. Boil chickpeas for 20 minutes or until soft and bloated, with skins falling off.
Drain chickpeas in fine mesh strainer and run under cold water for 30 seconds. Set chickpeas aside.
Blend garlic, salt and lemon juice until the garlic is finely chopped, then let rest for ten minutes or longer for the garlic to permeate the sauce.
Add chickpeas and cumin to garlic sauce and blend until smooth while adding olive oil, about 2 minutes. Use a spatula to ensure everything gets blended. Add ice water as needed to achieve a creamy texture.
Taste and add up to 1/4 teaspoon sea salt and 1 tablespoon of lemon juice for flavor.
Spoon hummus onto serving dish and shape like Jabba the Hutt, and garnish as desired.
8. Chocolate Peanut Butter Chewbacca Apple Slices Recipe
I suggest a new strategy. Let the Wookiee win.
Ingredients:
Apples, sliced
1 (6-ounce) container of vanilla Greek yogurt
1/2 cup chocolate chips
1/4 cup creamy peanut butter
(Optional) miniature chocolate chips as garnish
Directions:
Melt chocolate chips in microwave for 1 1/2 minutes or until smooth.
Stir in peanut butter and set aside for 10 minutes to cool.
Mix in yogurt.
Spread onto apple slices, using the textured side of a butter knife or spreader to add fur texture.
(Optional) Place a diagonal line of miniature chocolate chips on top to form Chewbacca's belt
9. Carrot and Celery X-Wings
Just submerge these in a swamp of your favorite dip!
Ingredients:
1 bag (12 ounces) of baby carrots
Celery sticks
Toothpicks
(Optional) kabob skewers
Directions:
Wash carrots and celery sticks
Cut celery into 2-3" slices, then each in half lengthwise.
Cut toothpicks in half.
Stick a blunt toothpick into one end of each celery piece, leaving 1/4" protruding.
Stick 4 celery sticks on each baby carrot (2 each on opposite sides), creating two Vs.
(Optional) Stick veggie X-Wings onto kabob skewers for display.
Star Wars Recipe Card Printable PDFs
The recipe cards are all double-sided so they can be folded and displayed if you're setting up a Star Wars snack bar! That way, family members and guests with food sensitivities or special diets can make sure to pick the food that's right for them.
When completed, these Star Wars recipes will spell victory for the small band of movie fans struggling to restore balance to the galaxy...
Is your mouth watering after these garishly galactic snacks? Do you have a healthy snack recipe that you'd love to see with a Star Wars twist? Are you looking forward to trying some of these Star Wars recipes? Let us know what you think in the comments below! We'd love to hear what you think of these healthy geek treats. Whether you're looking to go big or go home for Star Wars Day or you're setting up a Star Wars birthday party, we have some of the best Star Wars gifts in the galaxy!