So, Gay Pride Month is coming up and that means it is time for the Gay Pride Parade and all sorts of other festivities. Maybe this will be your first or perhaps you're a veteran parade participant. Either way, we're here to help you celebrate your true colors this year!
You might be asking, "what or when is gay pride month, anyway?" Well, everyone likes a bit of history, right!? June was officially declared Gay Pride Month in 1999 in commemoration of the Stonewall Riots. They were a series of sudden protests and demonstrations in 1969 that really kicked off the LGBTQ+ liberation movement. Folks have been encouraged to come out of the closet and celebrate who they are...and that's where the Pride Festival comes in! Let's look at some ways to join in the fun!
Think Rainbows for Your Gay Pride Outfits!
Rainbows are one of the iconic symbols of the LGBTQ+ movement. The Gay Pride Flag can be seen on gay-friendly stores and homes, especially throughout June. Each of the Gay Pride colors represents a different quality and there are several variations. The original flag starts off with Pink, representing the wide diversity of people. Red stands for life, orange for healing, and yellow for the bright sun. Green stands for nature, turquoise for art, indigo for harmony, and violet for spirit. But you can do more than just fly your LGBT Pride flags! You can also wear the rainbow with our colorful Pride apparel.
Flaunt Your Fun Side With These Gay Pride Costumes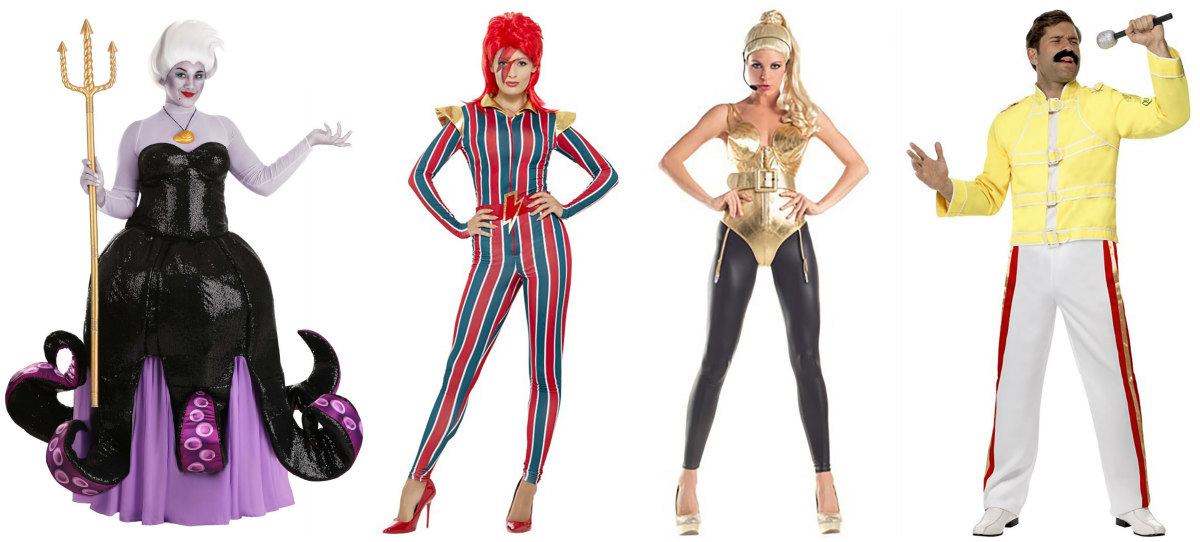 Whether you're attending the parade, an epic party, or walking the grounds at the festival on Gay Pride Day in your community, many go above and beyond when it comes to standing out in a crowd. These looks aren't just for Gay Halloween costumes. These are Pride Costumes that are perfect for drag queen outfits or dressing up like your favorite gay icon celebrities! Rock your Pride by portraying the divas and dreamboats like David Bowie and Madonna. When at Pride, do as the Pride folk do...and, just like the Romans, show off a few muscles with a gladiatorial ensemble. Above all else, bring cheer and celebration to the event. (And who knows more about that than Cheer Bear?)
Tips From the Fab Five: It's All About Accessorizing!
When costumes are a bit too much to beat the summer heat, there's a perfect way to wear your pride on your sleeve. From Gay Pride shoes and jewelry to rainbow accessories, you can add the perfect flair to an everyday look and make it Pride Perfect. Some of the most popular accessories are brightly colored wigs and the kinds of high-heeled boots that would make professional drag queens jealous! Wings of every shape and color are a great way to accent your look and turn a Gay Pride festival into a heavenly (or naughty) event! Just remember: Pride is all about visibility. Be seen and celebrated! And, what will do that better than theatrical capes and costume accessories!?
Gay Pride Necessities for First-Time Parade-Goers!
It's easy to get caught up in the excitement of your first Pride Festival. There are a few necessities that you'll want to bring along to ensure you make the most of your Pride! A weekend of activities can be unpredictable, so bring along shades for when it is sunny, shelter for when it rains, and something comfy for when it is time to see the rainbow shine! Choose flashy water bottles that feature iconic queer characters and a bright hat to keep you from getting burned. There are a ton of artistic and crafty booths that will have giveaways and memorabilia that you'll want to take home, so bring a backpack or belt bag so you've got a place to store your stuff. Glow sticks, neon body paint, and some comfy Gay Pride shirts are always a great bonus to lighten up the park!
When You Can't Make the Parade, Pride Up your Place!
Lots of things can come up in June and some Pride Festivals take place during different parts of the year. Perhaps you can't get the weekend off or the parade was put off. Have no fear! You can bring the parade right to your home with the right Gay Pride Decorations. Have yourself a virtual Rainbow Run and stream it on the 'Net for the world to see. Creative use of all sorts of fun items can turn your place into a Pride palace! Unicorn and pixie décor always include a few rainbows to brighten up a home. Clever repurposing of bright pool-time toys can make your home almost as much fun as the Festival!
No matter what kind of Gay Pride festivities you have on your calendar, the right products can ensure that you have a bright time. Choose from some of our products above or mix and match to create the look that makes you smile. Remember, Pride all about sharing who you are and embracing fun with the whole community. Happy Pride to all!