Did you grow up watching anime classics like Sailor Moon and Cardcaptor Sakura? Did you immediately see the magical girl anime tropes in Disney's Turning Red? Whether you did or not, they're there—and we decided to push it even further. We'd love to see other Disney princesses as various magical girls! How cool would it be to see Elsa as a character in Magic Knight Rayearth? Sleeping Beauty and her fairy godmothers would also be a perfect addition to Pretty Cure. Let's start the magical mashup madness as we transform Disney princesses into anime heroines!
Sailor Moon Mei
Besties assemble! Miriam! Priya! Abby!
For Disney fans who also love anime, Turning Red was an absolute delight! The movie is filled with nods to the classic shōjo anime Sailor Moon. Just like the protagonists in Sailor Moon, Mei and her three friends are all wearing color-coded outfits. Also, Mei and all of the women in her family have a piece of jewelry that locks their panda away. (Sound familiar?) When broken, it releases their panda forms in a similar way to the Sailor Moon transformations. How many other references were you able to spot?
Tokyo Mew Mew Yzma
Is that my voice? Is that MY voice? Oh well.
When it comes to transforming into cat-people, no one does it better than Yzma! The main protagonist in Tokyo Mew Mew transforms into a cat girl in order to fight the powers of evil, and we couldn't resist giving the role to Yzma. Sure, she's a villain, but she's disarmingly adorable. (Not to mention she's voiced by one of the best Catwoman actresses.) We're quite sure that she could make enough animal potions to assemble her own team of Mew Mews!
Cardcaptor Sakura Raya
I really wanted to believe we could be Kumandra again.
The plot of Cardcaptor Sakura hinges on the main character searching the world for a deck of magical cards that she accidentally releases. As it happens, Raya is also traveling to find all the pieces of the dragon gem that broke in order to banish Druun again. These world-traveling women are on a mission to restore their prospective worlds, and we want nothing more than to watch them succeed!
Little Witch Academia Tiana
The only way to get what you want in this world is through hard work.
While some Disney princesses had their lives handed to them on silver platters, Tiana is one of the hardest-working Disney princesses! Her attitude is also seen in Little Witch Academia's Atsuko Kagari. She wants so much to become a witch at the magical academy, but has no actual magical abilities to speak of. It's only after she discovers a magic relic that she starts to use magic, but she's still way behind her peers. Both characters have a desire to spread happiness, whether it be through helpful magic or tasty food.
Magic Knight Rayearth Elsa
I promise you I will free this forest and restore Arrendelle.
Much like Elsa, the characters in Magic Knight Rayearth discover that they have magical, elemental abilities. Having ice powers of her own, Elsa is a natural fit! They are also whisked to magical realms that they are tasked with assisting—The Northuldran's Enchanted Forest in Frozen 2, and Cephiro in Magic Knight Rayearth. However, the connections don't stop there! Just as Elsa stepped down from a position of power and allowed her sister to be the queen of the realm, Hikaru decides not to be the Pillar of Cephiro.
Revolutionary Girl Utena Mulan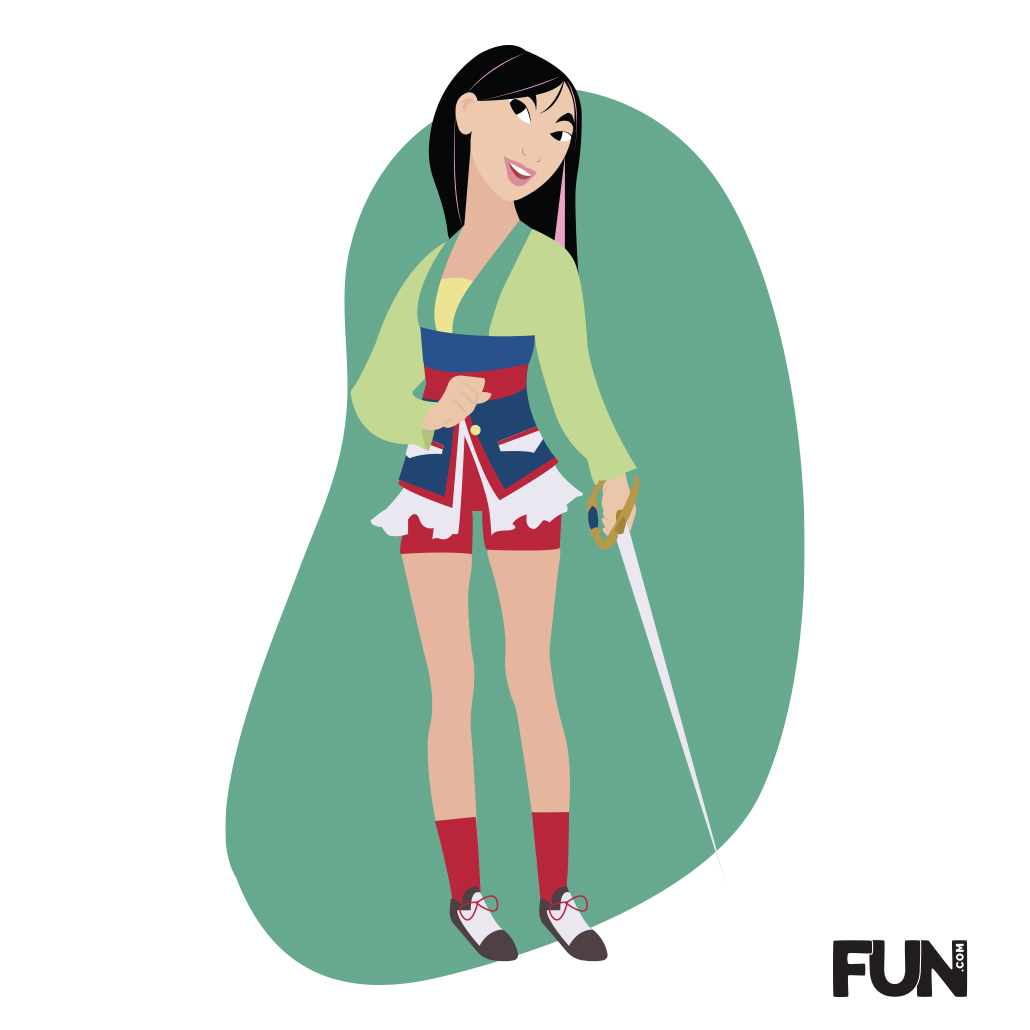 You don't meet a girl like that every Dynasty.
Can we just say that the parallels between Mulan and Revolutionary Girl Utena are staggering? There's a reversal of typical gender roles as Mulan pretends to be a man in order to masquerade as a soldier, and Utena wishes to become a prince. (Not a princess, mind you, but specifically a prince!) They also carry special swords. Mulan's sword is the sword of her father, Fa Zhou, while Utena wields a blade gifted to her by a traveling prince. They are also driven by their fierce connections to honor and nobility, putting the needs of others before their own.
We hope you had fun watching us give the Disney princesses magical girl glow-ups! What was your favorite mashup? Who else would make a good Disney magical girl? Let us know if we should do this for other magical girls, like Ladybug or She-Ra! You can find your favorite anime figures and more in our lineup of anime gifts.