A long time ago in a galaxy far, far away... If this is how all of your favorite movies begin, you are undoubtedly a Star Wars fan. As a true devotee to the epic space saga, you don't simply wear Star Wars apparel on Star Wars Day, because every day can be a Star Wars day to you! (You even go out of your way to find ways to wear Star Wars outfits to work when you're required to wear suits or company uniforms!) If you're looking for some new Star Wars clothing to add to your galactic wardrobe, you have come to the right place. We'll show you where to buy the best Star Wars clothing for every member of your family!
Star Wars Clothing for Men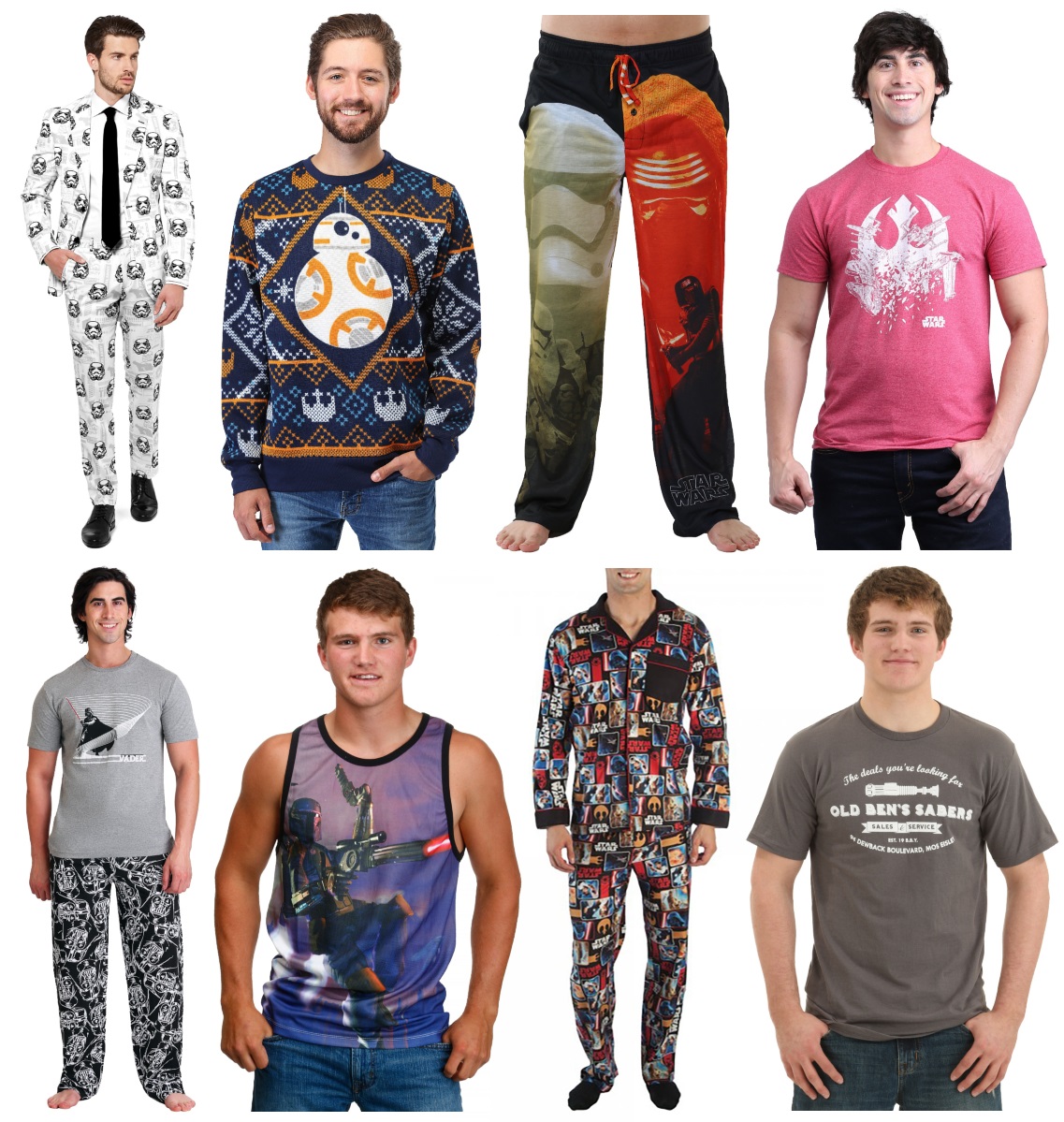 Licensed Star Wars apparel for guys doesn't just have to be a graphic t-shirt. There is plenty of Star Wars men's gear such as shirts, sweaters, suits, lounge pants, pajama sets, tank tops and even underwear. With so many options, you can make the most out of your geeky clothing. You're required to wear suits all day? Get some Star Wars loungewear for around the house. You're going to the gym? Wear a Star Wars tank top. It's May the 4th and your workplace frowns upon dressing up for major holidays? Wear some Star Wars socks or boxers, or perhaps a nerdy tie if you can get away with it.
Star Wars Clothing for Women and Juniors
There are plenty of female Star Wars fans, so it should come as no surprise that there is an abundance of Star Wars women's clothing and Star Wars apparel for juniors. We are in a golden age of licensed apparel for geeks, and women's Star Wars apparel runs the entire gamut from socks and underwear to leggings, tees, tanks, sweatshirts, dresses and jackets. There's no shame in wearing your fandom on your sleeve, and it makes a great conversation starter when you're standing in line at your favorite coffee shop waiting for your venti iced skinny hazelnut macchiato with sugar-free syrup, an extra shot of espresso, light ice and no whipped cream.
Star Wars Clothing for Boys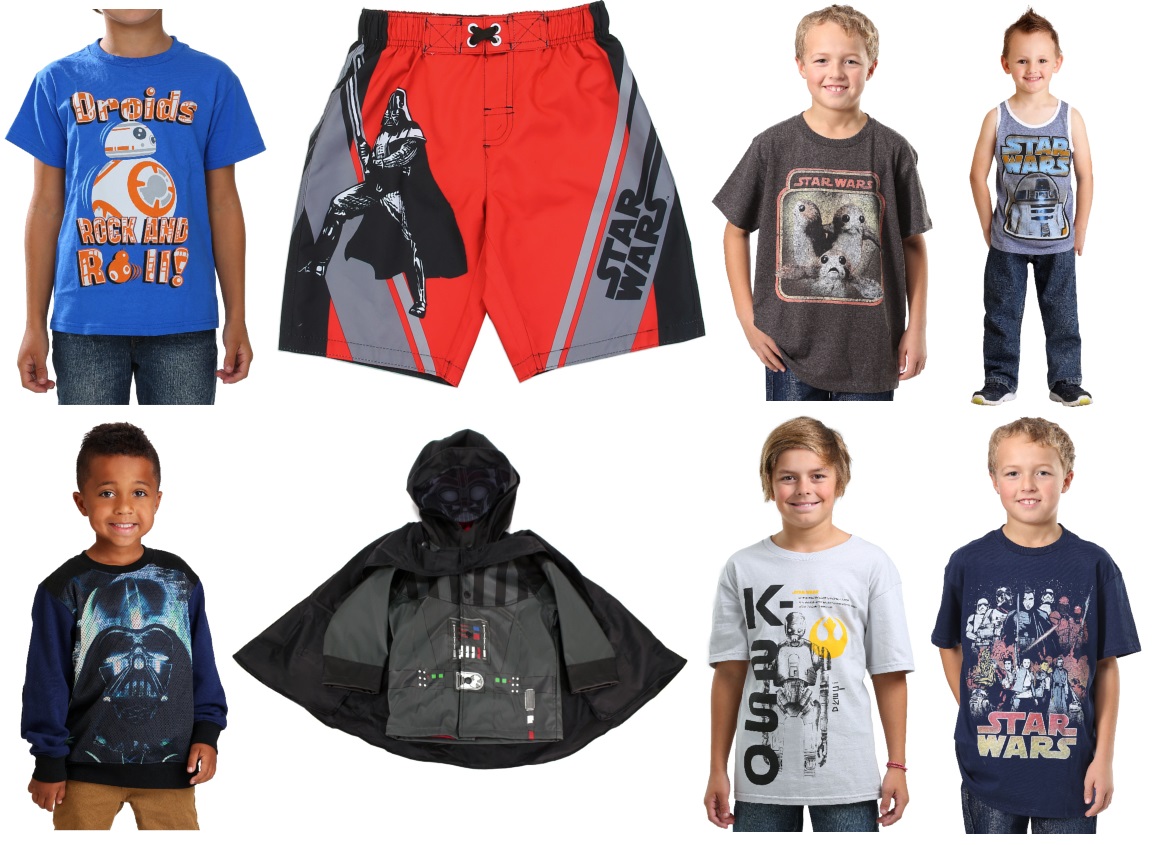 In the wise words of Master Yoda, "pass on what you have learned". People passionate about Star Wars should share their love for the franchise with their kids. They can do this for a number of reasons, one of which is the sheer amount of adorable Star Wars clothing for kids! Whether you support the Empire or the Rebels, there's enough Star Wars apparel for boys on either side of the Force. (Too bad you can't ask your son to use his Force powers to clean up his room!)
Star Wars Clothing for Girls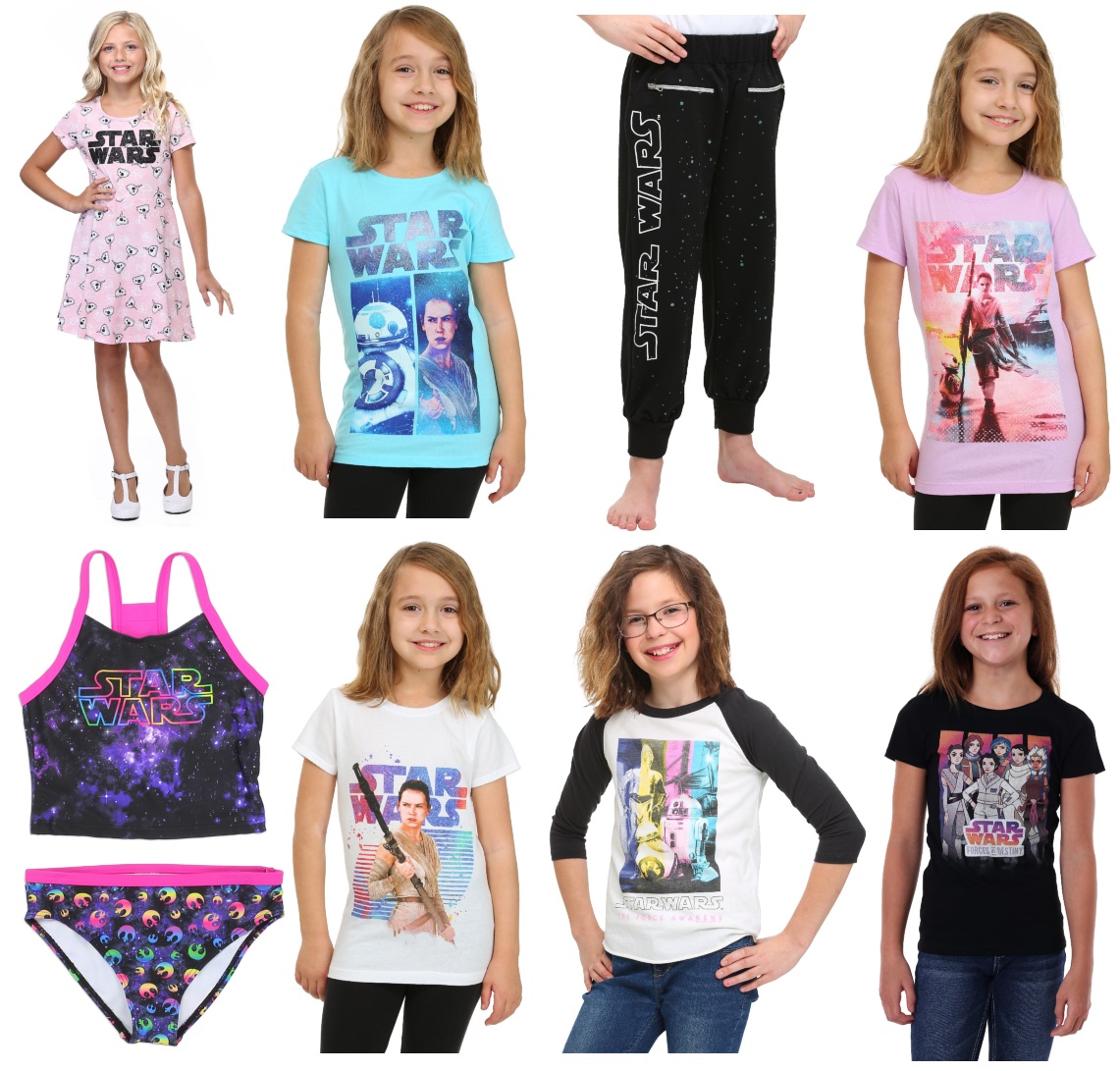 If your little padawan happens to be a girl, you can still get lots of Star Wars apparel for girls. There are so many wonderful female characters in Star Wars like Princess Leia, Rey and Ahsoka. They're sure to keep her interest, and she will be proud to wear clothing featuring her favorite characters! If your little girl really loves the droids, there are also plenty of apparel items featuring the Star Wars droids for girls. Perhaps she'll love the droids enough that she wants to make her own robot. You can always get her some STEM toys with a focus on robotics and coding, and your little tinkerer might grow up to be like Rose Tico!
Star Wars Accessories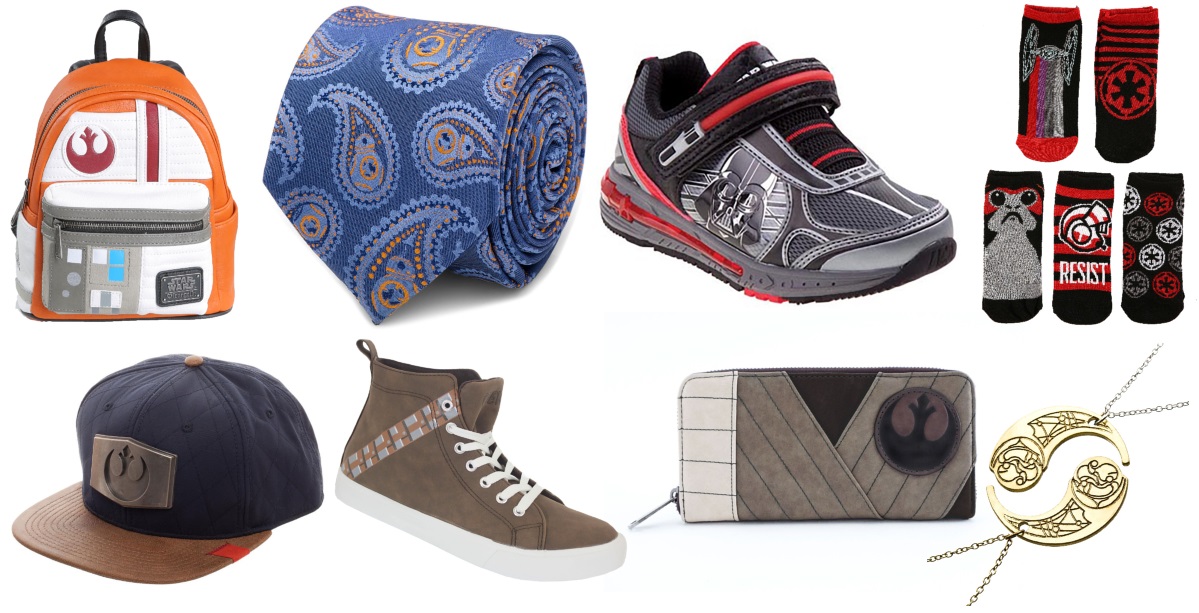 Whether you're looking to display your love for Star Wars in a subtle way or you want to be touting as much Star Wars merchandise in one outfit as you can muster, these Star Wars accessories are sure to do the trick! Sneakier accessories like socks or the subtle paisley BB-8 tie are some ways you can add a little fun to an otherwise boring business outfit. If you're less worried about subtlety or you're outfitting your child, you can gear up with some Star Wars shoes, jewelry, hats and bags. You'll be ready at a moment's notice if the galaxy is in need of saving!
We hope you found some new inspiration for your Star Wars wardrobe! Do you have a favorite piece of Star Wars clothing? Is there a particular character you'd love to see featured in more Star Wars merchandise? Do you feel like the world can always have more Star Wars loungewear? Feel free to share your thoughts with us in the comments. (By the way, the answer to that last question is always "yes"!)