The end of the school year is fast approaching, as is National Teacher Day. Every year in early May, many are still scrambling to pick up the perfect gifts for Mother's Day and nobody thinks of the teachers. Think about it: these people just spent most of the year educating children (your children!) on subject matters that will impact them for the rest of their lives. Ok, maybe we're getting a bit dramatic here, but really, teachers deserve gifts, too.
So, if you want to show some teacher appreciation and wonder what the best teacher gifts are, don't worry because we've got you covered. It doesn't have to be a grand gesture; even teacher gifts under $10 can be thoughtful. If you know an educator who's molding young minds and deserves some appreciation, here are the teacher gifts that will do just that.
Gifts for Music Teachers

Your child may have a variety of teachers, so getting gifts for your teacher depending on what class they teach can be a lot of fun, and it doesn't have to break the bank! Coffee mugs are great cheap teacher gifts, and they can be really cool. If they are constantly drinking coffee or tea to stay peppy throughout the day, we have one for music teachers that looks like an amplifier. What about a fun string of guitar lights? You can even get a little bit silly with a Chia Pet of a music artist if you wish. These music teacher gifts are so much fun, they just might be singing your praises in the break room.
Gifts for Gym Teachers
Whether you're looking for gifts for that sports fan teacher, coaches or gym teacher gifts, find something that shows support for their favorite sports team! Find a nice tumbler that will keep their hot drinks hot and their cold drinks cold while they're running between the gym and the outdoors, or get some fun sports puzzles when they have downtime. Even something as simple as a cheap gift of coasters with their favorite team on them is thoughtful. These sports gifts for teachers will really help them bring their A-game to class!
Gifts for Art Teachers
Art is such a chill class that many kids will often have a favorite art teacher. If you're looking for some great gift ideas for art teachers, we have a couple that might give you some inspiration! Bob Ross inspired generations of artists with The Joy of Painting, so maybe some Bob Ross gifts will show your teacher just how cool they are. Art history teachers may also appreciate gifts connected to famous painters from history, and this Funko Vincent van Gogh figure delivers! Otherwise, if your art teacher has a favorite movie or TV series, you can sometimes find art books for those as well. We especially love this Incredibles art book because the art is, well...incredible!
Gifts for English Teachers

We love to be entertained, whether it's through books, movies or TV shows. However, many of us wouldn't have the same love of books without our favorite English teachers! Whether you're looking for gifts for elementary teachers or high school teachers, we have several book gift ideas for you. Help add some whimsy to their classroom shelves with a set of cute bookends, or give them a notebook or journal perfect for jotting down quick notes. If they work with younger children, plush toys of book characters are a cute addition to any classroom, along with pillows and blankets for cozy storytime sessions. With cute teacher gifts like these, the thank you note you get might be more of a novel!
Gifts for Science Teachers and Math Teachers
Math and science are often close buddies, so here are a few gifts for math teachers and science teachers that would be tons of fun! Your kids will likely learn about magnets, our solar system, geometry and planet earth, so these items all make wonderful teacher gift ideas. Classroom toys are always great for child enrichment, but practical gifts such as the umbrella or a set of plates or bowls are handy for teachers on the go. At least they'll be able to tell their dishware apart from the rest of the school staff!
Gifts for History Teachers

The more time passes, the more history builds, creating more for us to learn. It's an important job, and thankfully our history teachers are there to remind us about the most influential eras and people throughout history! If your history teacher has a favorite figure or time period, perhaps they would make a great gift for your teacher. We have dolls and figures of several influential historical figures, from activists and justices to US presidents. They will certainly add a little more life to any classroom setting!
Harry Potter Gifts
There's no more magical school than Hogwarts, so why not get your teacher something to make their classroom a little more wizardly? Present them with some puzzles and games they could use at home or in the classroom, or give them fun figures to decorate their space. Even a cool keychain makes for a fun teacher gift so they can tell their own keys apart from the school's!
Dr. Seuss Gifts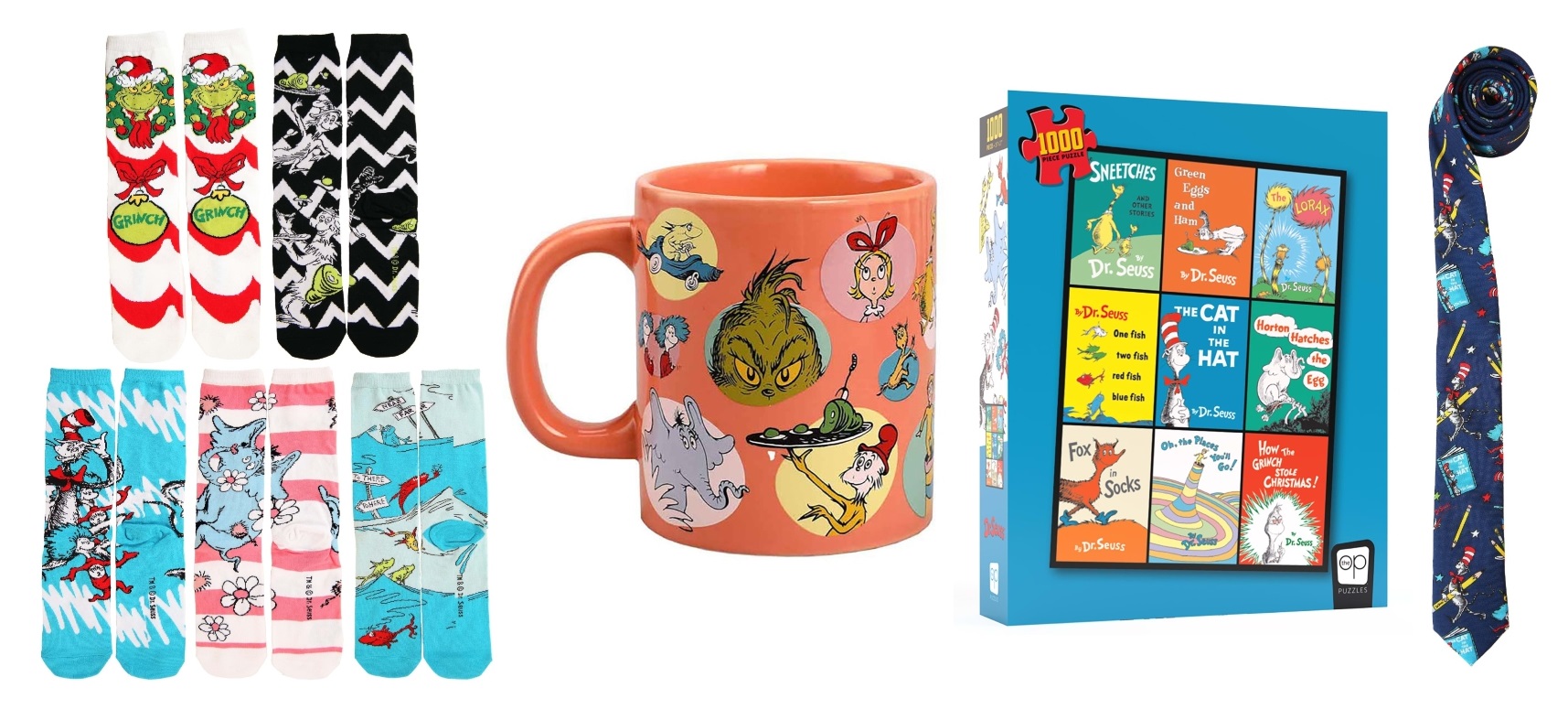 Oh The Places You'll Go! is a common theme for students who are about to or have just graduated and are about to head out on a new adventure in life. However, it's also one of the many themes introduced by teachers in the classroom through the classic stories from Dr. Seuss. These fantastical gifts are perfect for any teachers with whimsical personalities who take pride in their rhyming abilities. We also have some classroom apparel and accessory gifts like ties and costume kits that will command their students' attention during class or storytime!
Superhero Gifts

Teachers are superheroes in the classroom, so it's only appropriate to get them a gift that reflects that. Make stepping into their classroom feel like an entirely different experience with an X-Men doormat, or give them a little superhero help to keep those cables managed. Teachers that like to greet their students with a word of the day may appreciate a fun felt letterboard too. What a super gift idea! A single-cup Superman coffee maker is also perfect for the teacher who is constantly on the go and may not always have time to brew coffee at home. Like any superhero, it'll save the day for them!
Teachers can have such an influence on kids as they make their way through grade school and beyond. Did you have a favorite teacher growing up? While we're quite fond of most of the professors from Hogwarts, we're sure we've experienced plenty of academic influence over the years. We hope we've made your teacher appreciation gifts needs, but if you're still looking for something, there are plenty of unique gift ideas out there.