Patriots Gifts
If you're a fan of the New England Patriots, you have a lot to talk about—eighteen consecutive winning seasons, a bevy of AFC East titles, and of course, 6 Super Bowl wins since 2001. You can discuss Tom Brady and the high probability that he's the G.O.A.T. or celebrate Coach Belichick's championship pedigree. And you can happily let your friends know that even though their team might be good, they've got a long way to go to establish a dynasty like your beloved Pats! But celebrating your fandom is a lot more than just talking up the team. You've got to show it off!
To achieve that, of course, you're going to want some New England Patriots gifts, apparel, and accessories. As it happens, our football fan-friendly team has assembled the coolest Patriots merchandise found online. You can be sure you're in just the right spot to pick out the perfect gifts for Patriots fans! And just in case you need a helping hand to shop our Patriots gift ideas, we decided to go the extra mile and created this here FUN.com How-To on Patriots Gifts. We want you to be fully informed on your NFL shopping decisions, so we've added everything we know about the most popular football merchandise and gift ideas to this guide. Whether you're shopping for yourself to showcase your fandom or taking care of a Patriots fan on your shopping list, you're going to find the goods right here at FUN. So, just read on to see our top items along with some helpful info!
Let's get to shopping! If you're trying to pick out a gift for a certain Pats fan you know, we're sure you'll want to find an item that perfectly showcases why they love the team. Just what that item is will vary from person to person—maybe it is a t-shirt or sweater, or perhaps it's home décor perfect for decorating their fan cave in a Patriots team theme. Maybe it's gear for tailgating at the stadium, or perhaps it's just handy accessories that they use every day to show off their fandom! Fortunately, we've got all of those items and more. Check out some of these top Patriots gift ideas to see if any of them are just what you're looking for!
Patriots Ugly Sweaters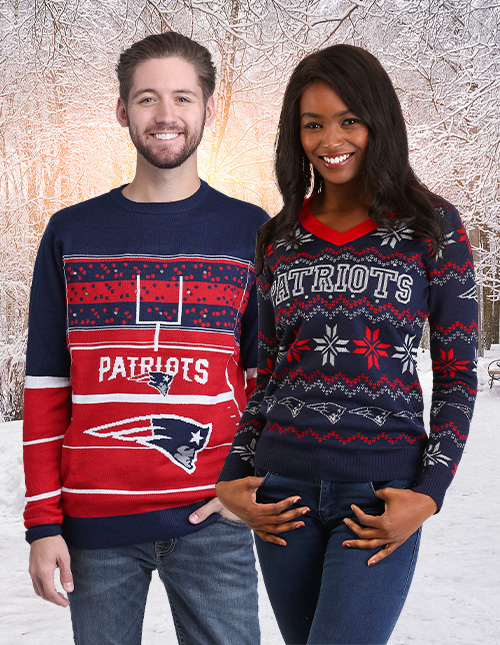 Football fans know full well that the temperature outside gets colder and colder as the NFL season progresses. (In no place more so than Foxborough, Massachusetts!) Well, the best choice for tackling your Patriots fandom no matter the forecast is with a Patriots sweater. They're comfy for fall football games, and they're great for layering with jackets and puffer vests when the team is playing with a layer of snow on the field! With a great selection to choose from, guys will want to take a look at a men's ugly Christmas sweater in a Patriots theme. Or, grab one of our women's Patriots sweaters for a fantastic fan look for her!
Patriots Slippers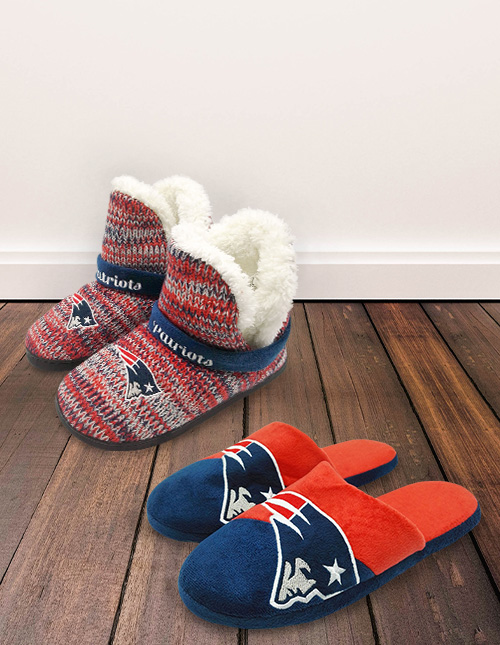 When you're about to put up your feet to watch the big Patriots game on TV, a fun and super-easy way to support your squad is to just slip on a pair of Patriots themed slippers. We think it's probably the most comfortable way to show off your team spirit! We have several Patriots slipper styles that will keep your feet warm and stylish. Top choices include classic Patriots moccasin slippers, women's bootie slippers, and Patriots slide-on slippers that help add team spirit to your morning routine. With plenty of Patriots logos and comfy linings that feature sherpa fabric or faux shearling lining, your feet are going to be extra cozy while helping you display some Patriots pride!
Patriots Backpacks, Wallets, and Bags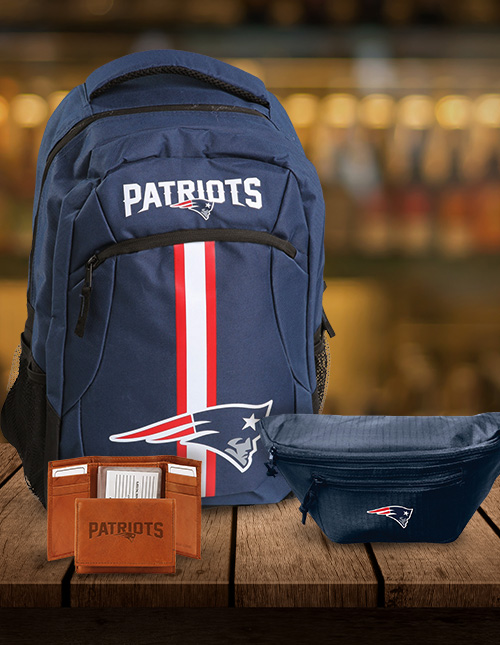 Heading out on the town? Well, we're sure that you're going to want to show off your fandom so that everyone will know you're a serious Patriots fan! Stash your cash in a Patriots wallet, and you'll be able to let folks know that the Pats are your top team every time you make a purchase. Or, you could tuck your cards and devices into a Patriots fanny pack so that you'll have easy access to your most essential items. It's an excellent option for game day! If you've got extra gear to bring along for the day, the best choice is a Patriots backpack. For kids, college-bound students, and adults alike, nothing beats a themed backpack to tote your stuff and show off your team spirit. Be sure to shop all of our licensed bags and backpacks to see the latest styles!
Patriots Kitchen Appliances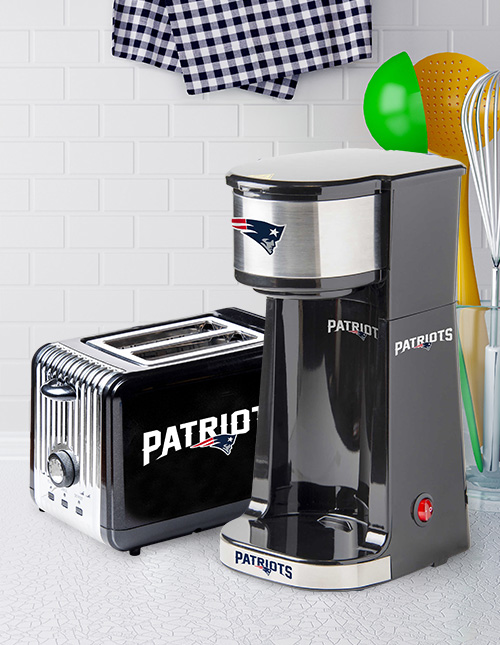 Cooking and prepping snacks and meals is a big part of any Patriot fan's game day routine. It's one of the things that makes being an NFL fan so much fun! An easy way to incorporate your super fan status into your household is by getting a few handy kitchen appliances that proudly display your team's logo! We've got breakfast covered with some of our great choices. A Patriots toaster is a handy way to help you get a hearty breakfast each and every Sunday morning. And a Patriots coffee maker is another great way to make sure you're totally fueled up in time for kickoff. It's going to be a big Sunday, after all, so make sure to start your day right with the best Patriots Kitchen and Dining options!
New England Patriots Merchandise
True fans just can't get enough team gear. And we're sure that's most assuredly accurate when it comes to Patriots fans! Your team is the most successful squad of the 2000s and 2010s, so we think it's a-okay to stock up on NFL merchandise that proudly displays the Patriots logo and theme. We've got a wide selection of officially licensed merchandise to choose from, and that includes lifestyle items, dishes and drinkware, and accessories to help around the home. Check out some of these top choices to see if we've got some Patriots fan items you'll love!
Patriots Home Décor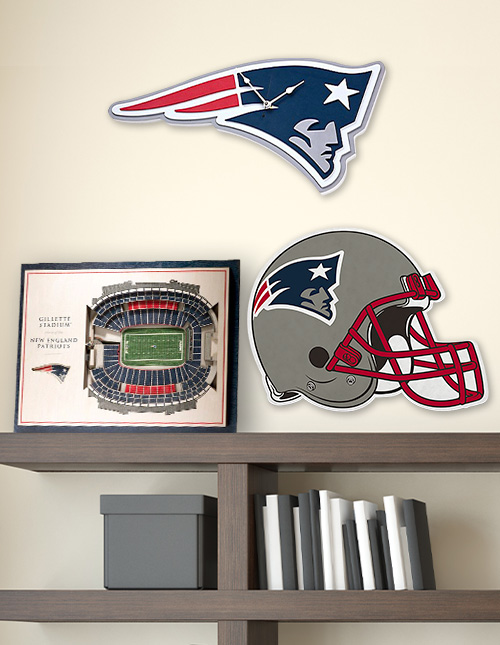 Are you setting up your TV room as a Patriots fan cave? Or maybe you're doing up the walls of your cubicle to support your team at work. Well, when decorating for Home and Office, we've got your back! Our Patriots themed wall décor will turn your living room into the ultimate place to watch the big game or transform your office to let your coworkers know that your team is tops. Some of our best choices include the fantastic Patriots Stadiumviews 3D Wall Art that features an aerial, layered view of Gillette Stadium. We also have Patriots clocks, foam helmets, and more! Just shop all of our NFL Home and Office products to find everything you want to stick up on your wall.
Patriots Glasses & Mugs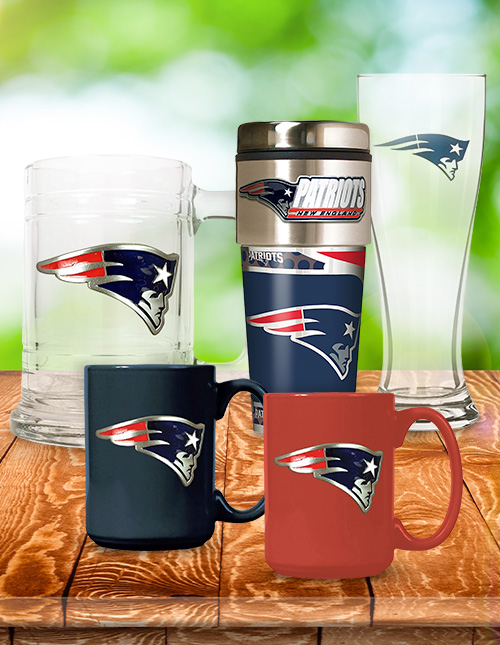 Love to mix your own drinks or enjoy delicious brewed beverages whenever you tune into the Patriots game? Well, then, we have to state the obvious. Your beverage is going to taste just that much better if you're drinking it out of a Patriots glass or mug! And we've got a great selection of NFL licensed drinkware from which to choose. Try a Patriots Pilsner 2 Pack if a pint is your top choice, or perhaps a tankard mug if you like a frosty pour of ale. A Patriots coffee mug might be a great way to start your day in the morning. Or pour some coffee in a Patriots tumbler if you want to bring your coffee along with you while you travel to the stadium!
Patriots Kitchen Gadgets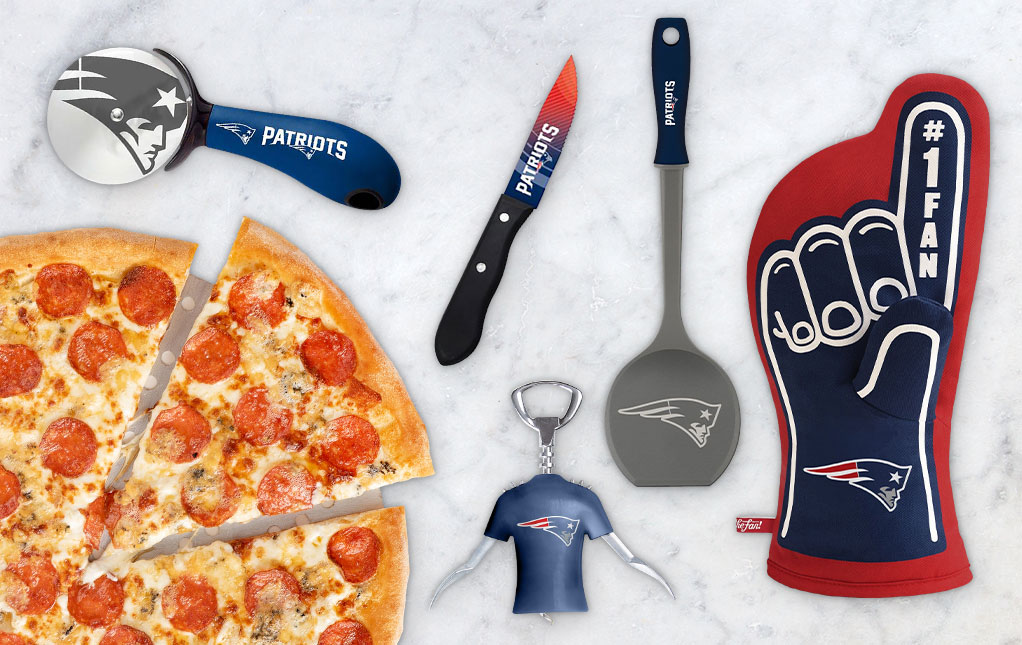 Enjoying great food, appetizers, and snacks during the game is one of the best parts of an NFL Sunday. So, when you're making your Patriots pregame preparations, be sure you have some officially licensed kitchen accessories to help you get your fandom fired up for the big game! Steak knives are the best way to help you get through your t-bone once it's fresh off the grill, or if you're doing a take-and-bake pizza, you'll definitely want to get our New England Patriots Pizza Cutter to cut your slices. We've got just about everything you can think of, from cheese sets to wine openers, and kitchen staples like a Patriots oven mitt. We've got you covered with everything you need to enjoy your favorite foods in true Patriots fan style.
Patriots Gifts for Him
It's safe to say that men and women are Patriots fans in near equal numbers, but when it comes to picking out a Patriots gift for men, you will definitely find that some items are better received than others. In our experience, we've found that guys always love getting gear for the grill, coolers, cool clothes, and loungewear. And if it features their favorite football team, all the better! Shop these top Patriots items for him to see the best Father's Day gift ideas and Christmas gift ideas.
Patriots Grill Gear Set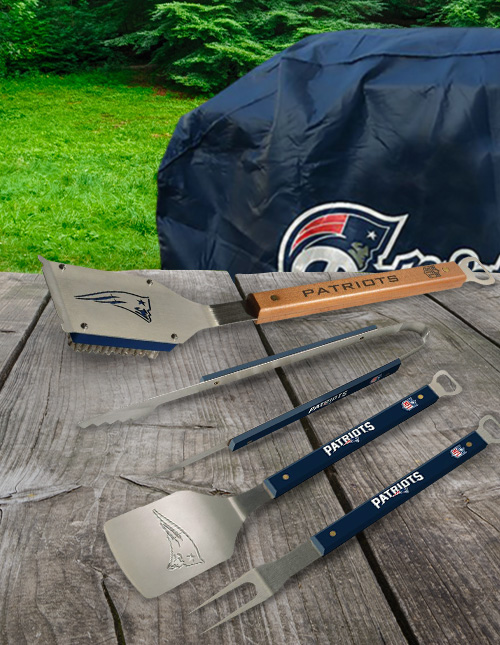 Yeah, we'll state the obvious. Guys love football. And guys love grilling. So, when you combine those two passions, the result should be one very happy gent! You can add some Patriots grilling accessories to his Sunday Funday routine when you shop our great selection. A Patriots 3 Piece BBQ Set will help him cook up his favorite burgers, dogs, and brats, and he'll probably want a Patriots grill brush to get the grill grates all nice and clean before he starts up the flame. And when the meal's all-over? Just get him the Patriots Padded Grill Cover to keep his equipment protected from the elements. With an extra-large Patriots logo printed on the exterior, it will also help him show off his top team to the neighbors all week long!
Patriots Coolers & Carriers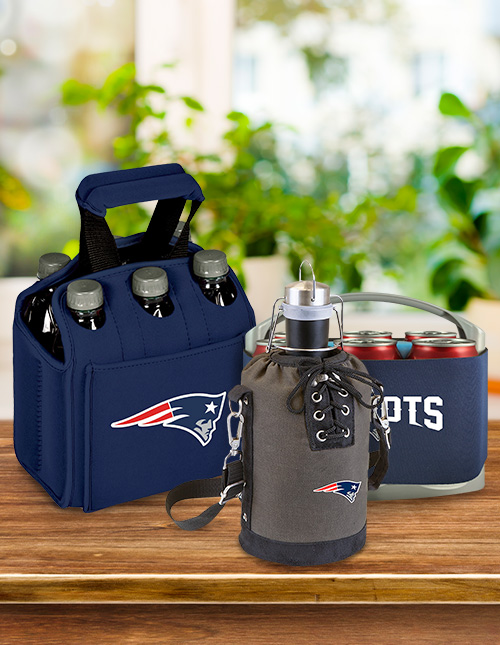 When the guys get together in the man cave to watch the Pats play in the big game, it's a surefire bet that they're going to be enjoying plenty of beers and brews. And you can get your guy ready to hit the road to his buddy's house when you grab one of our Patriots 6 pack coolers. The Patriots Beverage Carrier holds six bottles or cans, and works equally great for beer and soda. And, of course, it proudly shows off a Patriots logo on the side! If he's into craft brews, you can also get him our Patriots Growler and Tote. With a 64 ounce capacity and an insulated tote that features the team logo, he'll be more than happy to fill it up at the local brewery on the way to the game day party!
Patriots Apparel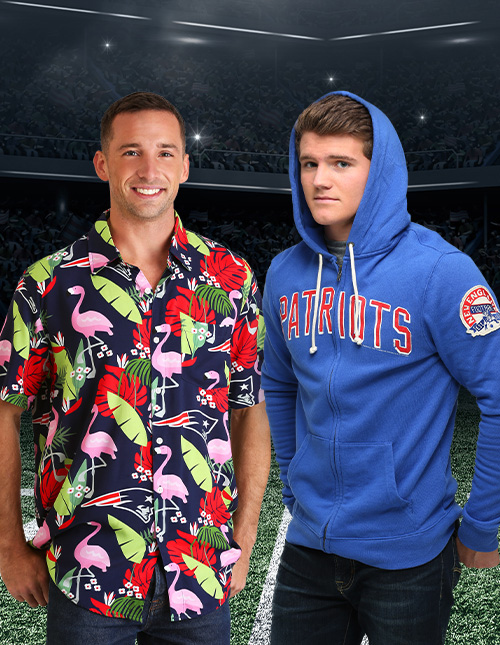 It doesn't matter if the game day plans include lounging on the couch, heading to the local pub to watch the game, or even going to the stadium to root for your team in person. Everyone appreciates having some cool fan apparel to wear when the Patriots play! If you want to pick out a Patriots shirt or sweatshirt that he'll love, we're happy to let you know we've got some of the best selections available on the web. Since fandom doesn't take a break when going on vacation, our Patriots Floral shirt is a great choice for traveling to tropical locales. He'll be able to proudly let all the other vacationers know that he's rooting for the top team in the league! A hoodie is always a great choice for fans, too, and we're sure that one of our comfy Patriots hoodies will be a fashionable way to support the team in any setting!
New England Patriots Pajamas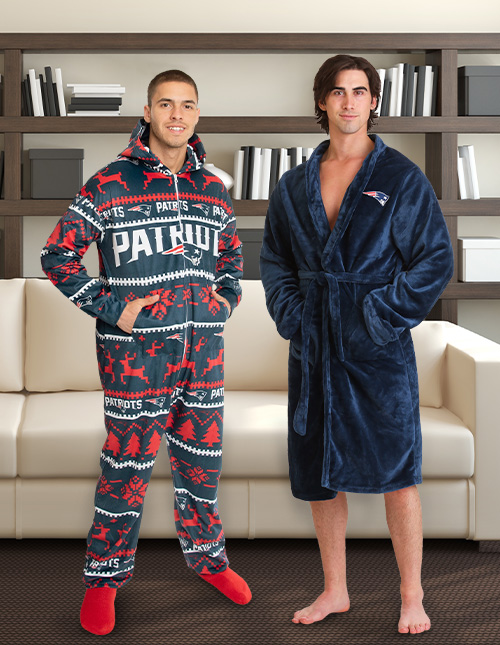 Tuning in to the game from home is always a great way to enjoy the big Patriots game. (Particularly when you don't even need to get dressed for the day!) It's even more so when your PJs have a Patriots fan theme. Here at FUN.com, we take relaxing seriously, so we have a variety of unique pajama sets, including adult onesies and loungewear. We have plenty of NFL officially licensed loungewear in a Patriots theme, naturally, and our top choices are the Patriots Lounge Robe and the Patriots Unisex Onesie. The navy blue robe features a silky fabric and an embroidered team logo for the ultimate in fan luxury. And the unisex onesie features a holiday-inspired print, which makes it the perfect choice for unwrapping those Patriots gifts on Christmas Day!