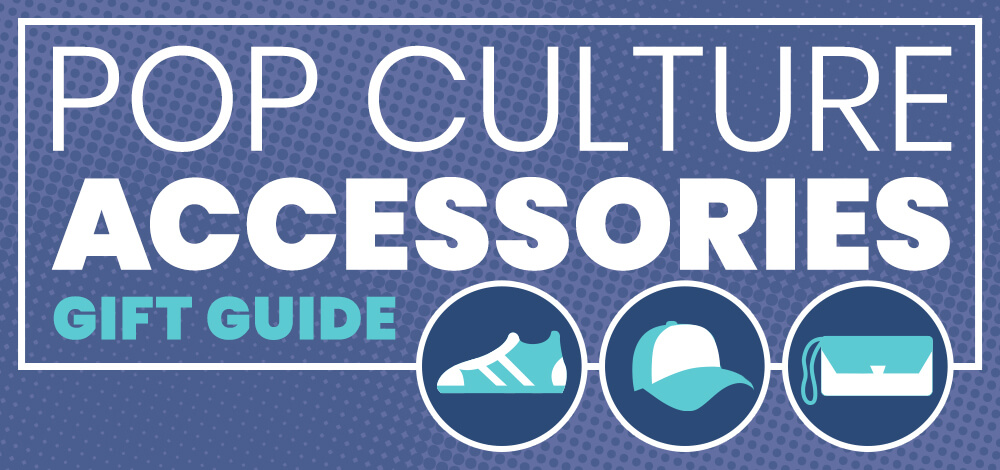 We all love our movies and television shows and comic books and video games and…well, the list goes on and on. Not that long ago, it was difficult to find accessories for all of the pop culture franchises that we love. But no longer! The variety of pop culture accessories has exploded over the past few years, and we're proud to say that Fun.com is the best place to get it all. So whether you're a fan of Disney or DC Comics or classic 80s family films, we've got something for you! Let us bring your boring accessories into geek chic territory!
These Purses and Wallets Carry Some Serious Geek Cred
We'll start with our favorite purses and wallets, because they're great at carrying stuff! And everyone needs to carry stuff, right? The best thing is that you can find fun, pop culture-themed geeky purses and bags for pretty much all of your favorite fandoms. If you're into Disney, then you'll love our Disney purses and bags! We've got a Stitch bag from Danielle Nicole, and exclusive Incredibles and Toy Story bags from Loungefly. Loungefly also makes this Captain Marvel bag, so you can show off your love for comics everywhere you go. If you're more into geeky wallets, don't worry! We've got wallets for fans of Disney, Marvel, DC Comics, and more. Two of our faves are this super colorful Lego wallet and this vintage Nintendo wallet that comes with a gold Legend of Zelda money fold.
You'll Flip Your Lid Over These Geeky Hats and Shoes
We've got fans of just about everything here at Fun.com. Some of us love all the modern movies and television shows, from Frozen 2 to The Mandalorian. Others are into older fandoms, like Back to the Future and Gremlins. Then we have those who live, Doctor Manhattan-style, in all times and fandoms at once. We're the experts in this biz, so we can amplify your geek chic by recommending the perfect pop culture hats and geeky shoes for franchises old and new. So throw on a Batman hat and some Avengers boots when you're feeling particularly comic-y. Or a Back to the Future 2 hat and shoes for some casual cosplay as Marty McFly. (That's if you're not chicken!) Or mix and match your genres with a Gremlins hat and Frozen 2 boots. There are no rules, it's all about showing off what you love!
This Pop Culture Gear Will Have You Singing in the Rain
Look, everywhere on Earth has weather, and that means it probably rains from time to time. But even if you're caught out in a storm, you can still rock your Harry Potter umbrella! Some of our pop culture-y rain gear is even fun to use on a sunny day! We've got a Deadpool umbrella shaped like a katana and a Legend of Zelda umbrella that looks like the Master Sword. We've even got fun raincoats and gear for kids, like these BB-8 and Olaf ponchos that double as towels!
Did you find the perfect accessories for your favorite fandom? Or was there someone on our list of faves that you particularly love? Leave us a message in the comments! If you're still working on your own geek chic style, you'll probably find what you need in our accessories category!