The 80s were a great decade, and they gave us so many amazing Saturday morning cartoons. If you're just like us, you may have been bitten by the Care Bears bug! What kid wouldn't love a bunch of cute, rainbow-colored bears that live in the clouds? Maybe you're hoping to introduce the next generation to the Care Bears with some Care Bears merch, or you're still in love with their colorful aesthetic even as an adult. We're sure that you'll find some Care Bears gift ideas that you'll Care-a-Lot about!
Care Bears Plush
How many of the original Care Bears names do you know? Many of them still exist in the newer Care Bears cartoons, including favorites like Cheer Bear, Tenderheart Bear and Grumpy Bear. The Care Bears stuffed animals were some of the first (and still most sought after) Care Bears collectibles, and they continue to make new ones today! While these newer Care Bears dolls look more like their more modern cartoon counterparts, they're a favorite among other Care Bears merchandise. We're simply in love with this selection of rainbow bear stuffies!
Care Bears Toys

If you still cherish the original 80s Care Bears cartoon, you're going to love the box art for this Care Bears Monopoly game! There's also an absolutely adorable 1000 piece puzzle to complete, and how cute would it look framed? Sure the kids may like these Care Bears toys too, but we won't blame you if you want a copy for yourself. There are also other Care Bears games and toys for the little ones, such as this cute cloud rocker and a Care Bears Spot it! game. We love the portability of Spot It!, making it an excellent activity to take on trips or just to grandma's house.
Care Bears Clothes
For some of us, Care Bears isn't just some casual thing we happen to like—it's a fashion statement! People love to wear graphic shirts with their favorite movies and TV series, so you'll be delighted to know that you can get your fill of Care Bears shirts and sweaters. We have Care Bears clothing for adults and kids, including some unisex tees and sweaters. You'll feel as cuddly as the Care Bears in this Care Bears apparel.
Care Bears Decorations
Kids and pastel rainbow-addicted adults are sure to love our line of Care Bears home décor! Pretty pillows and poufs with Care Bears faces make great accents for any Care Bears-themed room, and don't forget rainbow decorations like our rug and pillow. You can also find furniture pieces perfect for a kids' room, such as the Cheer Bear chair and Care Bears play tent. It may not be possible for you to take a trip to Care-a-Lot, but you can bring a piece of their rainbow-filled paradise into your room.
Care Bears Accessories
Now, a shirt isn't exactly an entire outfit, so we have many adorable Care Bears accessories to help you create an entire look. Gear up with a pair of Care Bears shoes, or perhaps a cute Care Bears purse. When your outfit is this charming, you'll feel like you're on cloud nine! Even if you need more subtle Care Bears wear because you can't be in head-to-toe Care Bears, we have sweet socks and slippers to suit your style.
Care Bears Shoes
While it is true that the Care Bears don't have footwear, we'd like to imagine that they would wear these shoes if they could! Bring a smile to someone's face with a fuzzy pair of Cheer Bear shoes, or add a pop of fun to a blue outfit with Grumpy Bear heels. Whether you're fond of brightly colored outfits or subdued pastels, these colorful shoes are sure to be eye-catching!
Care Bears Socks
Maybe your outfit isn't bold enough for colorful character shoes, but you still want that fun pop of Care Bears in your wardrobe. These Care Bears socks will do the trick! Buy a pair of low-rise socks that reflect your mood for the day, or add a colorful accent with long Care Bears socks. They may not make your toes fuzzy like your favorite bears, but you'll feel beary cute!
Care Bears Bags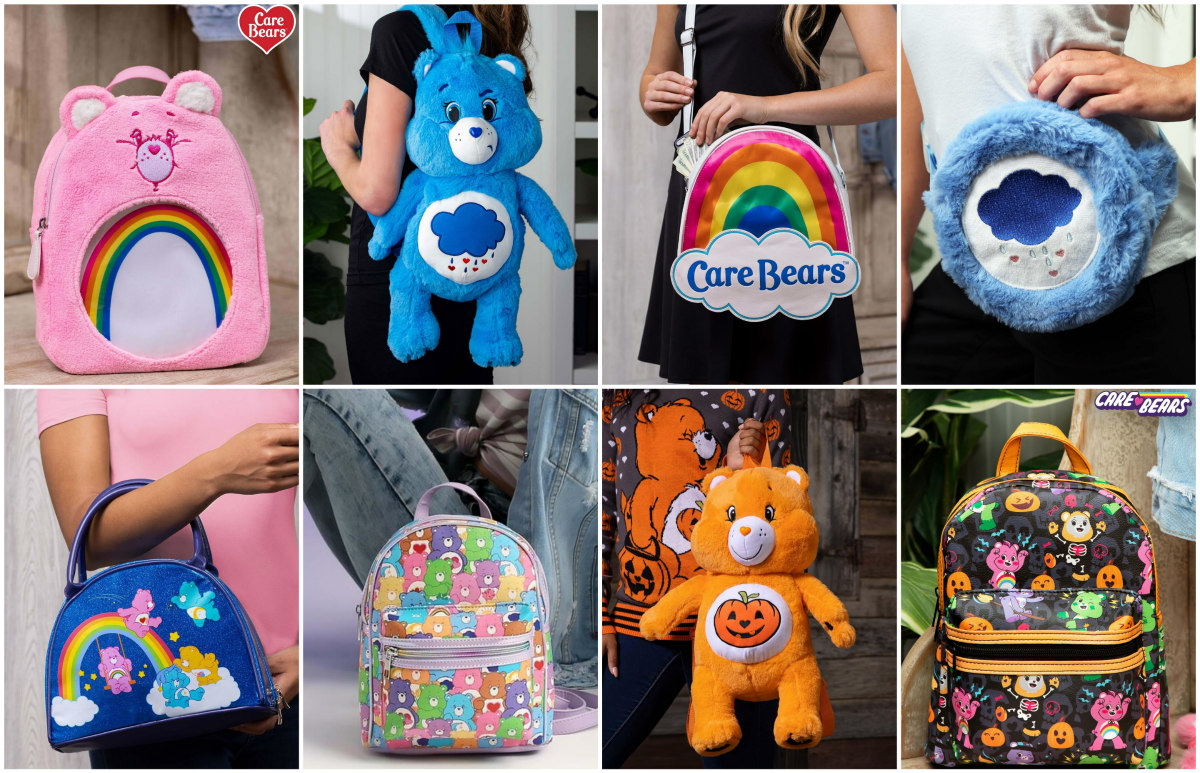 If you're going to make a Care Bears outfit, naturally, you're going to want a bag to tie it all together. Pair a mini backpack with your favorite casual outfit, or perhaps try a purse for something a little dressier. There's even a kids' backpack for Care Bears fans that want to take their favorite characters to school! You know that you can trust the Care Bears gang to keep your essentials handy.
Care Bears Hats
Have you ever wanted cute, fuzzy ears on your head? Maybe just a warm, furry hat? Even if you're looking for a typical dad hat to keep the sun out of your eyes, the Care Bears are here to help. We have a whole rainbow of knit Care Bears hats to suit your mood, and who could pass up an adorable baseball cap? These useful Care Bears accessories are sure to be your outfit's MVP.
Care Bears Slippers
We often use words like snuggly, warm and fuzzy to describe the Care Bears, and with good reason. A hug from a Care Bear seems so warm and inviting that we couldn't help but get some Care Bears slippers to keep your feet cozy. It doesn't matter whether you're working from home or taking the time for some self-care and TV. These Care Bears slippers are so much fun to wear!
We hope you found just the inspiration you needed for some cute Care Bears gifts! They're perfect for Christmas, birthdays and even themed Care Bears parties! If you're also looking for some Care Bears party ideas, we have a selection of colorful Care Bears cupcakes to help you get started. We hope your giftee is as excited as Cheer Bear when they receive their present!