Getting a Halloween costume to wear can be exhausting, but when it comes to finding Halloween costume props, it's the most fun part! Showing up to a party with no props is acceptable, but showing up to a party with costume props, now that's dedication. Props not only make your costume look more appealing, but they make for great photo ops. Who wouldn't want to be dressed up as a Game of Thrones character without a signature weapon? We put together a list of props for some of the most popular costumes this year, so you and your friends can get the ultimate costumes this year. Read on to see some of our most notable props!
Game of Thrones Props


Longclaw Sword Stark Infantry Shield White Walker Sword
The next season of Game of Thrones isn't coming until April 2019...that's almost a year away. In the meantime while we wait for winter, we can live out our fantasies with costumes and replica swords. If you're dressing up in a Jon Snow costume and need some Valyrian Steel in your hands, we've got it here at Fun.com! Need the protection of a Stark shield? We've got that as well. Maybe you have a darker soul and want to dress up in a White Walker costume, we also have an ice-blade sword replica!
Marvel Avengers Props



Thor's Stormbreaker Thanos Infinity Gauntlet Black Panther Gloves Star-Lord Mask
Avengers: Infinity War was a massive hit this year and (let's be honest with ourselves) who wouldn't want to wear Avengers costumes? If you're planning on going out trick or treating with your kids, the Avengers make for a great family theme. Or what about putting together a group Avengers costume? Though let's not forget, a costume would not be complete without the perfect props. Who would Thanos be without his Infinity Gauntlet? Thor without the Stormbreaker? The list goes on. To make things even more exciting, mix-and-match your accessories. Have your friend wear a Spider-Man costume with the Infinity Gauntlet or a Falcon costume with Thor's Stormbreaker, you'll make for some great photo-ops.
Harry Potter Props
Newt Scamander Briefcase Sorting Hat Quidditch Goggles Illuminating Harry Potter Wand
Even just reading the words "Harry Potter", we can already hear Hedwig's theme playing in our heads. Whether you're a Hufflepuff, a Gryffindor, a Slytherin, or a Ravenclaw, you can find the Harry Potter props to use with your upcoming Harry Potter Halloween costumes. Make magic come to life with Harry Potter's illuminating wand. With a flick of the wrist, the wand will instantly illuminate and guide you through the Forbidden Forest. Maybe you're still not done swooning over Oliver Wood and want to cosplay him, we've got you covered with Quidditch goggles. If you were a fan of Fantastic Beasts, we also have Newt Scamander's briefcase. Just be sure to keep it extra locked, we'd like to keep magical creatures off the streets if possible.
Star Wars Props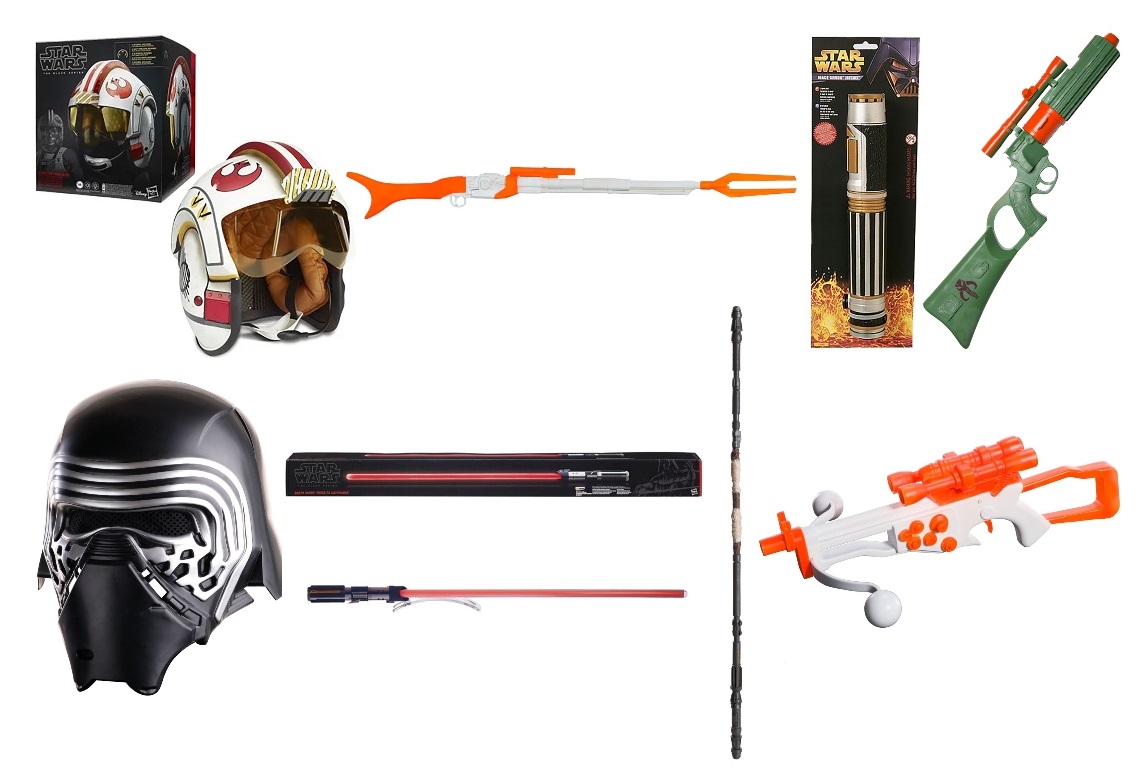 R/C Lifesize BB-8 Deluxe Electronic Kylo Ren Lightsaber Rey's Staff Electronic Kylo Ren Helmet
Star Wars has really been cranking out the films lately. With Rogue One: A Star Wars Story, Episode VIII:The Last Jedi, and Solo: A Star Wars Story, all released within the past two years, Star Wars fans have really been feeling special. Whether you're a fan of the original series or a newcomer, we've got you covered. Fun.com has the best Star Wars props to go with your Star Wars costumes this year. Astonish everyone at the party and get this remote-controlled lifesize BB-8. Just keep the remote in your costume and secretly have BB-8 follow you wherever you go. We love a great female lead, so if you're shopping for a Rey costume online, remember that you've got to have her staff...right?! Maybe you want to go a little out-of-the-box with your costume and dress as the Kylo Ren challenge, switch it up even more and wear the mask with it. Partygoers will love your attention to detail!
So what are you going to add to accessorize your costume this year? Maybe you'll switch it up by dressing as Kylo Ren, while carrying a White Walker sword...or even better...wear a Hogwarts robe while equipped with a lightsaber. Whatever your crazy/practical combo is, be sure to tag us on Instagram (@fundotcom_), we want to see it! If you want to check out our entire collection of costume accessories.