Addams Family Merch
Nothing is more important than family. Elevate essential bonding time with Addams Family Merch, the perfect addition to game nights or spooky campfire gatherings. Our collection of merchandise offers an array of delightful options for all ages, ensuring everyone can embrace their inner Addams. The Addams Family first aired in 1964 and has long since moved into the pantheon of great television families. Who loves their wife more than Gomez? Who had better houseplants than Morticia? If you enjoy the series or hit films, add some eerie gifts to your collectibles with our Addams Family Merch.
Addams Family Toys
Discover the macabre magic of Addams Family Toys and bring home the delightfully spooky world of this iconic family. These toys feature a captivating array of bits and bobs inspired by the beloved characters. For example, immerse yourself in their eccentricity with the Living Dead Dolls Fester and It Addams! Perfect for fans of all ages, these collectibles offer endless hours of imaginative play and serve as unique display pieces. Whether it be a doll or a statue, we're sure there is something to tickle your fancy. Embrace the weird and wonderful with our Addams Family Toys, where darkness meets delightful.
Living Dead Dolls Addams Family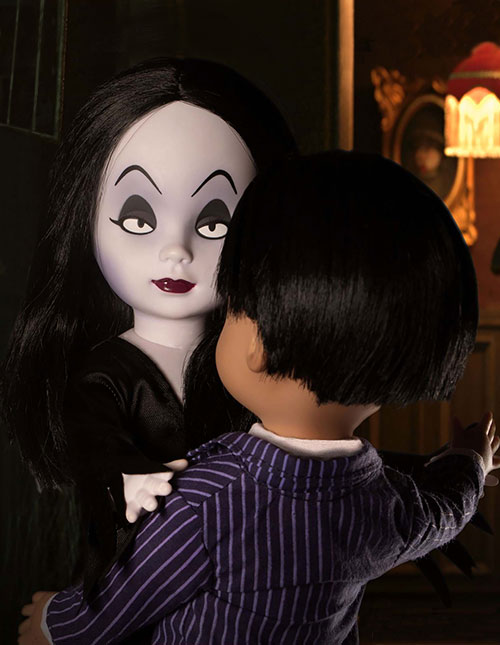 Experience the enchanting darkness of Morticia and Gomez's immortal love with our Living Dead Dolls Addams Family! These detailed dolls capture the macabre charm of the iconic couple, bringing their undying passion to life. Excellent for any spooky occasion, they make a bewitching addition to your collection and even a fantastic choice for Addams Family costume inspiration. Embrace the allure of the Addams Family and let their eternal love cast a spell on your heart.
Wednesday Addams Living Dead Dolls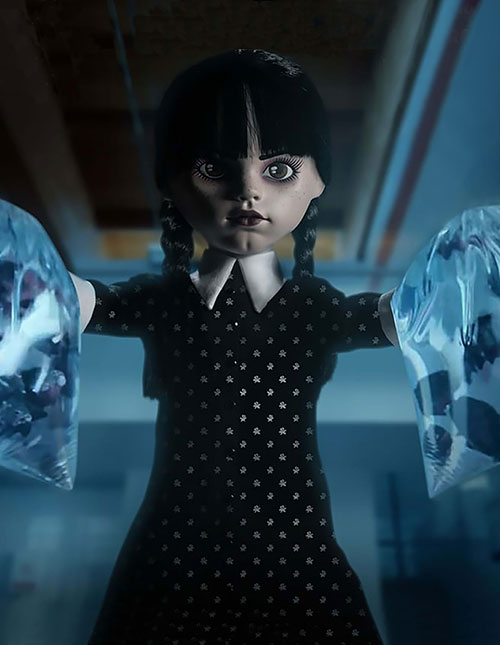 Embodying Wednesday's iconic rise to popularity, this Wednesday Addams Living Dead Doll showcases her irresistible allure and gothic charm. Pair it with a Wednesday Funko for a spellbinding combination that captures the essence of this beloved character. Whether displayed as a cherished collectible or complementing your Addams Family-themed decor, this Wednesday Addams Living Dead Doll perfectly embodies Wednesday's bewitching appeal.
Addams Family Clothes
The Addams Family always had a knack for fashion. Between Gomez's pension for black suits and cigars, Morticia's iconic black silhouette, or even Wednesday's overall vibe, they have always been at the peak of dark fashion. Stay ahead of the curve with a fancy coffin purse or even some black tights. Or stay cozy and stylish with an Addams Family sweater or a dress, offering comfort with a dash of eerie elegance and gothic glamour. Whether you are showcasing your love for the Addams Family or are simply fashion-forward, Addams Family Clothes bring a touch of darkness and joy to your wardrobe.